Discover more from Sportscaster Dan's Newsletter
Sports commentary
Are the Red Sox tanking?
Are the Boston Red Sox tanking? In the last three days, two esteemed sportswriters from the Boston Globe have accused the Red Sox of doing just that. In his highly-read Sunday baseball notes column, Peter Abraham wrote:
"So let's label this exactly what it is: The Sox have embraced tanking for a better draft pick."
In a Sep. 7 post, columnist Dan Shaughnessy wrote:
"Picked-up pieces while watching the embarrassing parade of meatball artists the tanking Red Sox send to the mound every day…"
The Red Sox are destined for their fourth last place finish since 2012 and are a far cry from two short seasons ago, when they won their fourth World Series in this century. But tanking? Wow! That's quite an accusation without any proof. Besides, because of this pandemic-shortened season, the commissioner has the final say on the order clubs will select in next year's draft.
Frankly, I'm surprised there has not been any blow back from Red Sox officials over both comments. (The paper's owner, John Henry, also owns the Red Sox.) And far be it from me to throw criticism at either Abraham or Shaughnessy, who is enshrined in the writer's wing of the baseball Hall of Fame in Cooperstown, NY.
I will always remember my first season, broadcasting games for the Richmond Braves, then the top farm club for the Atlanta Braves. It was 1985. Milt Thompson, a highly-touted prospect who had already had a cup of coffee in the big leagues, was in a horrendous slump. I suggested on the air that Thompson, one of the hardest workers at his craft, perhaps needed a day off. It so happened Thompson was in the clubhouse between at bats and heard by comments on the radio. The next day at the batting cage, in front of a group of people, he let me have it, saying something along the lines of "don't ever say I am tired and need time off. Talk to me first."
Today, managers give players days off all the time, even when they're tearing the cover off the baseball. However, Milt had a point. All he wanted was for me to talk to him first, before making any such accusations on the air. We later talked it out, one on one, far removed from the crowd around the batting cage. There were no hard feelings, as evidenced by the picture below, where Milt (wearing no. 30) and I were honorary co-chairs of a parade in suburban Richmond in 1985.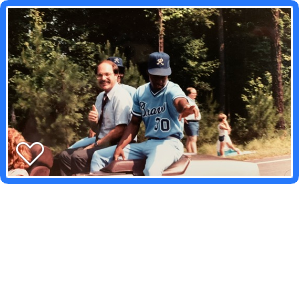 But as for the Red Sox tanking? I'm not so sure that's something any club would want to be accused of, especially when baseball is on the verge of allowing betting on its games, in ballparks no less. Tanking and betting are two words, if found in the same sentence, that just might gain the attention of the commissioner of baseball.
Why Wednesday?
Some of you receiving this newsletter on a Wednesday, may be asking why? At least I hope you are. Well, I am looking to expand the newsletter to three days per week: Monday, Wednesday and Friday. I don't know if I can keep up the pace, but I will certainly stick with the regular Monday publication and attempt to add the Wednesdays and Fridays, when I can, like today.
Stage set for major makeover of minors
In my Monday newsletter I linked to a story about the major makeover minor league baseball is about to receive. It is something many of us who have worked in minor league baseball have foreseen. For those doubting the paradigm is about to shift in a major way, another indication of major change came down the pike on Sep. 8, when Pat O'Conner announced he is retiring as president and CEO of minor league baseball.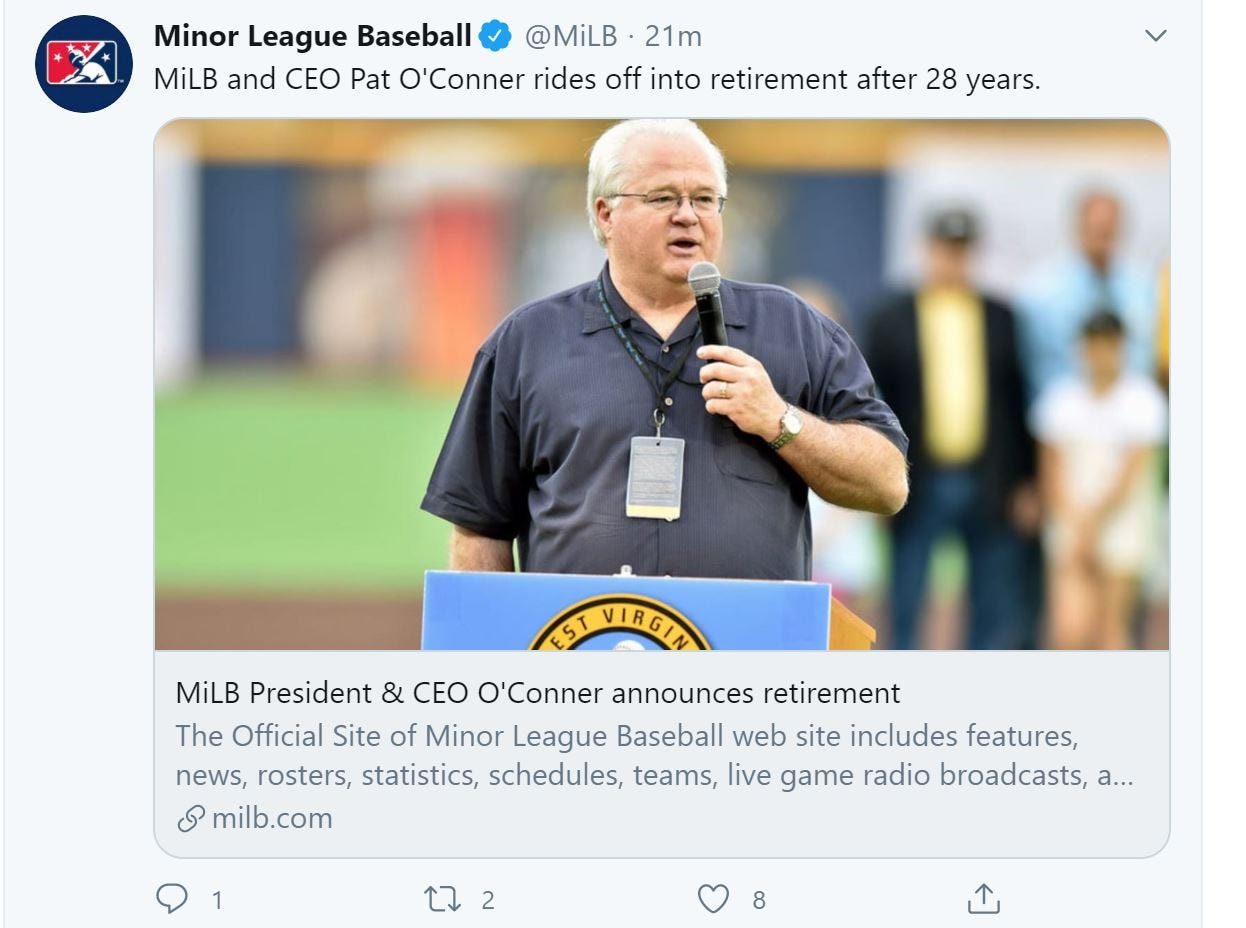 The hand writing is on the wall. Maybe there will be another MiLB President, but if there is, the commissioner of major league baseball will oversee that post in baseball's hierarchy. If there is not, that is because the baseball commissioner has chosen not to create that position. But make no mistake about it, minor league baseball is fully coming under the umbrella of the majors. O'Conner's retirement is another indication the blueprint is being carried out.
Vin Scully items up for auction
The venerable Vin Scully, 92, is auctioning off most of his memorabilia. Scully, who broadcast games for the Brooklyn and Los Angeles Dodgers for 67 seasons, is selling most of what is in his collection through Hunt Auctions, LLC. Click on the link to view what's up for grabs.
The Yankees are not in a slump
Repeat after me. "The New York Yankees are not in a slump." The New York Yankees are just a mediocre ball club. Picked as a favorite to make it to their first World Series since 2009, when they won the Fall Classic, the Yankees may not even make the playoffs, which this year has been expanded to 16 teams. With the Yanks loss to Toronto, 2-1, Tuesday night, they have gone 5-15 in their last 20 games. That's not a slump. That's a mediocre ball club, whose issues go beyond losing Aaron Judge, Giancarlo Stanton and Gio Urshela to injuries. At 21-21, the Yankees are at .500 in September for the first time since 1995. But these days, it seems like 1965 with this team, no matter how many meetings General Manager Brian Cashman has with the team, as he did before this latest defeat.
Authentic's Derby win garnered real ratings
Turns out the Kentucky Derby, run Sep. 5, was the most watched sporting event in the U.S. since the Super Bowl. It was also the most watched sporting event on Labor Day since 2017, as 8.4 million viewed "Authentic's" win on NBC and NBC's digital platform.
Well, that's it for the Wednesday newsletter. As always, thanks for your support and if you would be so kind as to share the newsletter with someone you know, I would be most appreciative.
SPORTSCASTER DAN