Discover more from Sportscaster Dan's Newsletter
Sports commentary
Betting pool grows
Rockies join the bandwagon
Good morning, everyone. Hope you are all well.
Here came the announcement Thursday morning from the Colorado Rockies:
"DraftKings Inc. (Nasdaq: DKNG) and the Colorado Rockies today announced the next phase of their longstanding collaboration by naming DraftKings as the Rockies' Official Daily Fantasy Operator and the first Official Sports Betting Operator in the franchise's history."
The Rockies are not alone in this, of course. You cannot watch a New York Yankees pregame show on YES without being reminded it is brought to you by DraftKings. The Chicago Cubs, New York Giants and Philadelphia Eagles have also struck deals with DraftKings. Not hedging their bets, the Eagles have also joined forces with Fox Bet. The Denver Broncos and FanDuel are also betting partners.
Not to be outdone, all-sports radio stations, TV networks and podcasts are launching programs devoted to betting on sports. ESPN is even starting a You Tube channel that covers wagering on games.
The reason sports leagues crossed what was once a sacrosanct line - no betting on games - is, you guessed it, money. Big money. The leagues will get a cut of the action and so will state governments. For example, New Jersey announced last week that a single-month record was set in wagering, $668 million. Incidentally, 90% of those bets were placed, using mobile apps. (Welcome to the 21st Century.)
Illegal betting on sporting events has been a staple for decades. Sports leagues and government want the activity out of the shadows so they can get their cut of the action. Besides, what else is there to maintain interest in a never-ending baseball game that is two hours long and only in the fourth inning? (See Yankees-Blue Jays)
Somewhere, "Shoeless" Joe Jackson is rolling over in his grave. And Pete Rose must feel wronged, as MLB's all-time hits leader continues to be denied entry into the Hall of Fame. But like it or not, betting on sports, legally, is here to stay.
Major changes in MLB's deal with TBS
As MLB clubs continue to layoff staff in record numbers "because of Covid-19" (Hey, who am I to question what's on their books), the media money continues to flow. MLB has a new seven-year deal with Turner Sports that increases rights fees by 65 percent. The new $3.75 billon pact will include a primetime game on Tuesday night and a revamped studio show reports the New York Post.
Here is my only question. What is the point of shelling out more than a hundred dollars a year for the MLB app, that gets you every club's TV and radio games, when so much of the game is already on television? I get Yankees, Mets, Red Sox games on my cable system, plus games on Fox, ESPN, FS1, TBS and MLB. I can see plunking down some dough for the all radio broadcasts. I suppose, if your favorite team is not in your market, or you live far away from home that it makes sense. As for me, paying for the MLB app no longer computes.
Michael Jordan joins NASCAR
I love this story in so many ways. Michael Jordan is joining with Denny Hamlin to form a NASCAR team, and Bubba Wallace will be the driver. NASCAR needs a good boot in the rear and Jordan is just the one to do it.
I've always admired Jordan, not only because he was one of the greatest to ever play basketball, but he also was willing to give baseball a try. Plus, his business acumen is to be respected.
I'll never forget broadcasting a Richmond at Syracuse International League game on Apr. 20, 1986. We had no smartphones back then. No internet. No tablets. In the back of the booth was a teletype machine, spitting out the latest scores. Then came the news. Jordan had scored a record 63 points in a playoff game against the Boston Celtics, but his Chicago Bulls still lost; 135-131 in double OT. The result certainly gave my broadcast partner Bob Black and I something to talk about, during our Braves-Chiefs radio broadcast.
Latest NFL ratings
In case you're wondering, NFL ratings for Week 2 were strong, though down slightly. The Patriots at Seahawks SNF contest garnered 17.69 million viewers. Click here for the numbers.
Interviewing Willie Mays
I dug into my archives to post an interview I recorded with Willie Mays in 1973 on my The Baseball Beat podcast. I was a nervous teenager, when I taped it on a cassette recorder. Imagine. You can click on the picture to hear the interview, along with an interview I recorded with Tug McGraw.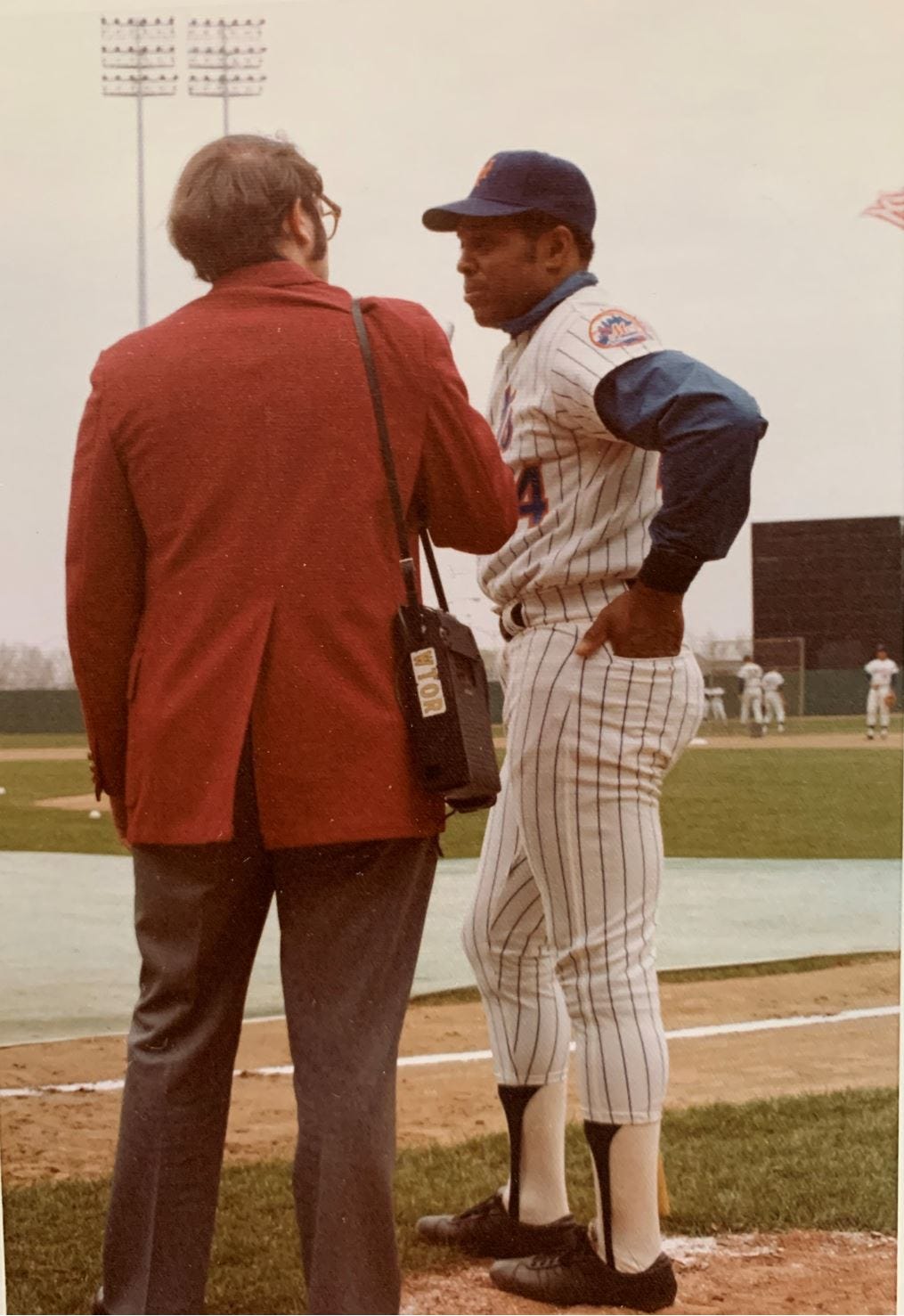 In case you are wondering, it is three months until Christmas.
That's it for today. As always, thank you for your support and have a tremendous weekend.
SPORTSCASTER DAN