Discover more from Sportscaster Dan's Newsletter
Sports commentary
"Hail and farewell" to the real Yankee Stadium
Will anyone recall this historic day?
Good morning, friends. Hope you are having a great week!
Yankee Stadium closed on this date
Yankee Stadium closed on this date. I know. I was there. I am not talking about the renovated Yankee Stadium, that closed in 2008. I am talking about the real Yankee Stadium, with the obstructed seats and the iconic facade rimming the stadium roof. This was the stadium of Ruth, Gehrig, DiMaggio, Mantle and Berra; the stadium where the Yankees won 20 World Series and 27 American League pennants.
On Sep. 30, 1973 the Yankees hosted the Detroit Tigers on the final day of what was supposed to be a great season. Bolstered by trades and finally a productive farm system, the Yanks were expected to contend, under veteran manager Ralph Houk. And for four-and-a-half months they did. But by mid-August, the club collapsed. Instead of another World Series, crowning the end of this historic edifice, the Yankees were left to finish a disappointing season with an 8-5 loss.
Let the record show that Yankees back-up catcher Duke Sims hit the last home run in the "big ballpark in the Bronx," as broadcaster Red Barber referred to it; and that the Yankees' Mike Hegan made the last out on a fly ball to center. Minutes later, Houk, the long time manager, announced his resignation. He had had enough of the interference by George Steinbrenner, who was in his first season of ownership, after a consortium he led purchased the club from CBS.
While Houk was stunning the baseball world, many of the 32,238 fans in attendance - no it was not a sellout - saw the value of memorabilia collection, tearing seats out of the ballpark's foundation and storming the field to dig up clumps of grass with their hands. I know. My buddies and I were among those who were part of the heist.
There were no iPhones back then or digital cameras, but I had my trusty Instamatic and took some photos. I hope to produce a video for my You Tube channel. Meanwhile, below is one of the pictures.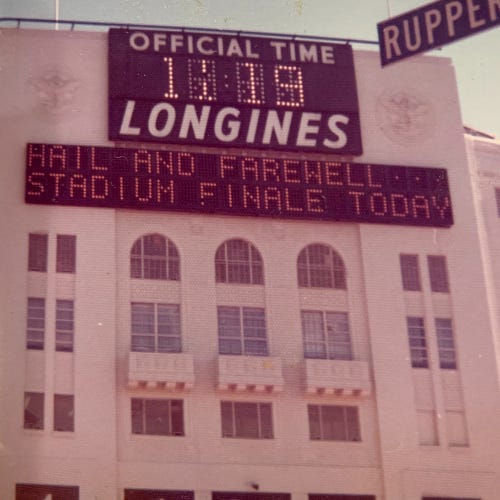 The morning of Sep. 30, 1967
As long as we are on this baseball history kick. If you were like me, when you awoke, you grabbed your breakfast, the morning newspaper and checked the baseball standings. And on the morning of Sep. 30, 1967, a Saturday, here is how the American League - there were no divisions - standings read:

The White Sox were out of the race, having been eliminated the day before. But the Twins were in control of their destiny, going into Fenway Park to conclude the season with single games on Sep. 30 and Oct. 1. All of New England remembered what happened that weekend, changing baseball forever in Boston.
John Sterling's first Yankees broadcast partner
R.I.P. Jay Johnstone. The former major league outfielder, 74, died at a nursing home on Saturday of complications from COVID-19. He played for several big league clubs and played in the World Series for both the Yankees and the Dodgers. But how many remember that he was John Sterling's first broadcast partner on Yankees radio? When Sterling entered the Yankees radio booth in 1989, Johnstone was selected as his partner. The broadcast duo lasted for two seasons. Sterling's other booth mates have been Joe Angel, Michael Kay, Charlie Steiner and Suzyn Waldman.
Sterling, 82, is still going strong and has no intention of ending his career behind the Yankees microphone.
Springer and Sano
As I watched the wild card game between the Houston Astros and Minnesota Twins, several thoughts crossed my mind. For example, with Houston's George Springer on the post season stage again, I can remember his numerous visits to New Britain Stadium, playing catch with Minnesota Twins farmhands. New Britain was home to the Twins AA affiliate through 2014. Springer is a native of New Britain, CT. You wonder what is going through his mind now, as he plays against the Twins?
Then there is Minnesota's Miguel Sano. I recall the time New Britain Rock Cats voice Jeff Dooley and I took Sano to ESPN for a tour and TV interview. Sano was projected as a future star and the Twins' slugger, although he has had some problems, has lived up to his billing. ESPN wanted an interview with Sano before he made the big time.
One of baseball's many strong points is its people and how their paths cross in so many ways. Springer and Sano are just two of countless examples
General Hospital on life support?
Contrary to any reports, General Hospital is not on life support. The iconic daytime soap opera on ABC is on hiatus for post season baseball. That is correct, ladies and gentlemen. ABC is back in the televised MLB business. Tuesday afternoon the network carried Houston at Minnesota. Miami at the Chicago Cubs is on the docket this afternoon.
The network has had a love-hate relationship with MLB. In the mid-60s, ABC carried a baseball game of the week. Then, considering the sport too slow, it gave baseball the brush off, opting for coverage of football, basketball, golf and horse racing in addition to award-winning programs, "Wide World of Sports" and "The American Sportsman." But in 1976, ABC got back in the game with "Monday Night Baseball" and post season baseball. In fact, you can watch a MNB game from 1976, featuring the Detroit Tigers and the late, Mark "The Bird" Fidrych.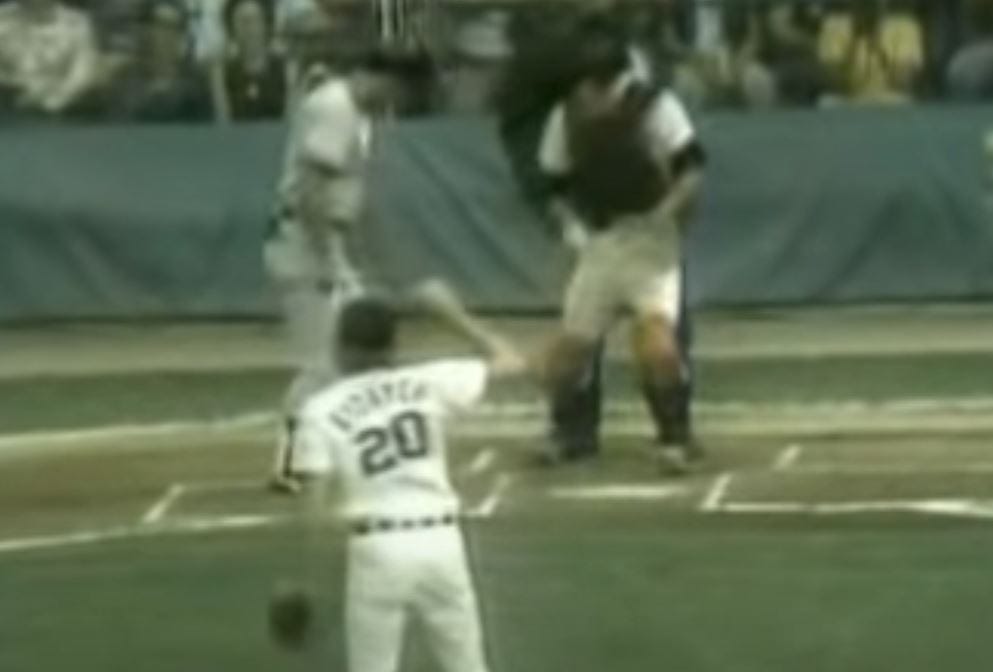 That relationship eventually ended, but now baseball is back on ABC again, helping its sister network ESPN carry the plethora of baseball games that highlight this 16-club post season field. As I have written before, ABC wants to carry the NFL again, but it wants back in for other sports too, and baseball is not off the table. However, fear not GH fans, your favorite hospital soap opera will soon return.
As for the expanded post season format being a one-time thing, as we have been told? Not a chance. Look for the expanded tournament to stay. There is too much TV money to be had. As Alex Rodriguez stated on ESPN before Tuesday night's Yankees at Cleveland game:
"This is our version of March Madness."
Welcome to "October Madness," a baseball tournament that will bring a smile to any commissioner's face.
Mahomes the NFL's ticket
Tom Brady may still be getting his publicity, but there is no doubt the NFL is building its stage around Patrick - don't call my son, "Pat" - Mahomes. On Monday night, the QB of the defending Super Bowl champs dismantled the Baltimore Ravens and his counterpart, Ravens quarterback Lamar Jackson, 34-20. Consider the following:
Mahomes had another big game going 31-for-42 for 385 yards

Mahomes was not sacked or intercepted

As a regular season QB, Jackson is 0-3 vs. the Chiefs and 21-1 against the rest of the league
Do not downplay Jackson's talent by any stretch, but Mahomes will be the QB around which the NFL spins its publicity machine.
Chiefs-Ravens a ratings winner
MNF ratings continue to deliver for ESPN. The Mahomes-Jackson battle delivered 14 million viewers. According to an ESPN media release, the audience for the Chiefs-Ravens game reached 16.2 million viewers in the first half. Year-over-year viewership for week 3 of MNF is up 36 percent and for the 2020 campaign MNF viewership is up four percent. Is it a wonder these networks trip over each other, attempting to secure NFL broadcast rights?
Well that's it for today. Enjoy your post season baseball. I'll have another newsletter on Friday and hope to sneak in a podcast soon. By the way, today is International Podcast Day. Enjoy your favorite podcast.
SPORTSCASTER DAN