Discover more from Sportscaster Dan's Newsletter
Sports commentary
LaRussa turned park into course
LaRussa's legendary design in Richmond, VA remembered
Good morning all! It's Frrriiiiiiddaayyyyyyy!
On Thursday the Chicago White Sox made history, naming Hall of Fame manager Tony La Russa as their new manager. He becomes the first Hall of Fame manager to return to manage. That in itself is controversial, as those who vote for Hall of Fame candidates for manager frown on that individual returning to the same job. I could never understand why, but apparently the traditionalists fear a manager could diminish his Hall of Fame status, if he returns and manages a club to a poor record.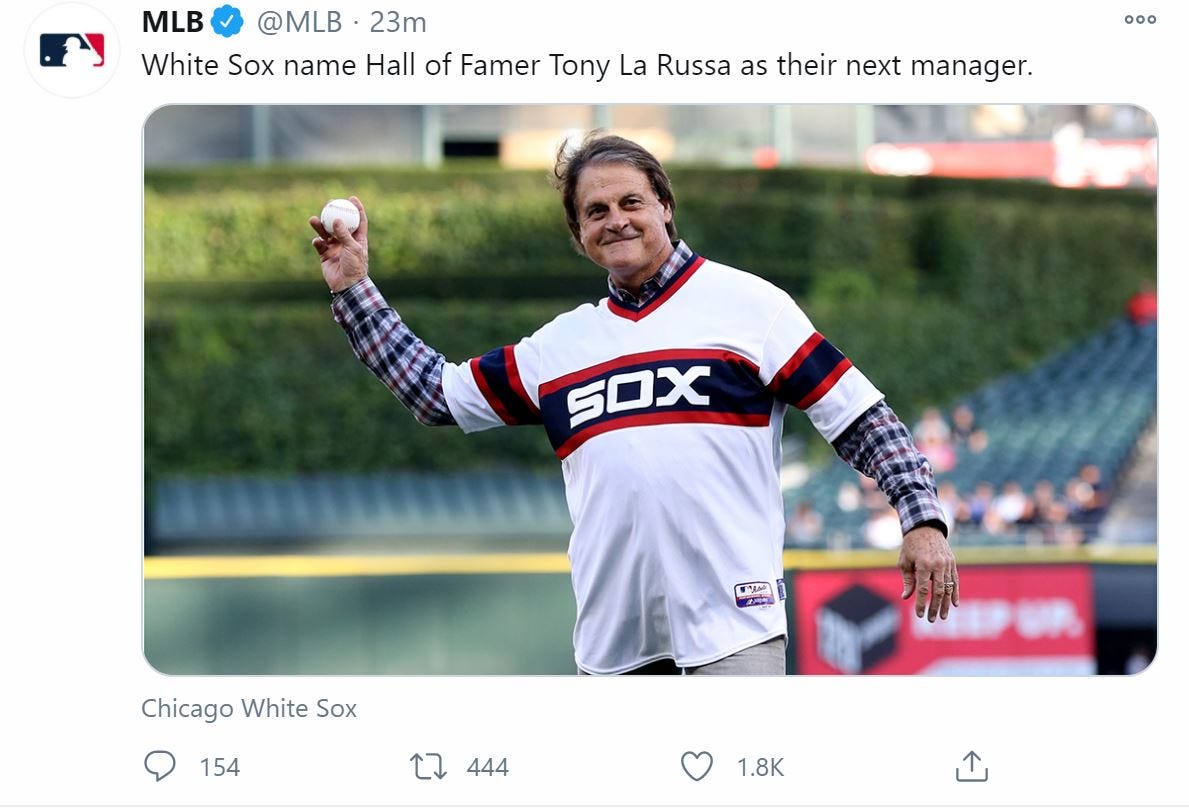 By returning, La Russa, who made his major league debut as a player in 1963 at the age of 18, is actually an inspiration to many senior citizens. The prime of life does not have to stop, when one becomes Medicare eligible. La Russa is 76. Houston Astros manager Dusty Baker is 71. Both major party presidential candidates are in their 70s. Casey Stengel managed until he was 75. Connie Mack and Jack McKeon managed into their 80s. In fact, McKeon was still going strong as an adviser in the Washington Nationals front office in 2019, when I caught up to him for an interview. As my mother used to say, "age is just a number." If La Russa has the energy and wherewithal to manage, good for him.
One of my favorite stories about La Russa involves the Richmond, VA ballpark. When I broadcast for the Richmond Braves in the 1980s at The Diamond (which still stands today as home to the Richmond Flying Squirrels), one of the groundskeepers used to love telling me the story about La Russa's golf course. Where The Diamond now stands was once the home of Parker Field. When La Russa played there in 1972 as a Braves farmhand, he laid out a "nine-hole golf course." In front of the third base dugout was one fairway, another fairway was down the left field line. You get the picture. The course finished at home plate. La Russa would stage "golf tournaments" with other players and ballpark personnel during down time.
So when I think of all of La Russa's great managerial achievements, I am always reminded of the "Tony La Russa Invitational." May he succeed on his next endeavor. He is an inspiration to all senior citizens.
Not everybody loves La Russa choice
It is not all flowers and candy for the White Sox choice of Tony La Russa as their new manager. Long time Chicago sports writer Kevin Kaduk was critical of the choice and will write about his criticisms in his Friday newsletter.

Kaduk was also critical of La Russa's radio interview, tweeting:
"I could be wrong, but I haven't heard La Russa mention a single current White Sox player and he's been on for almost an hour."
Kaduk also tweeted that the White Sox sent out an announcement, naming La Russa as manager, that included the signature of A.J. Hinch, former Astros manager now rumored to be the lead candidate as Tigers' manager.
Noted baseball journalist Jon Heyman was quick to note how the BBWAA frowns on Hall of Fame managers returning to the field: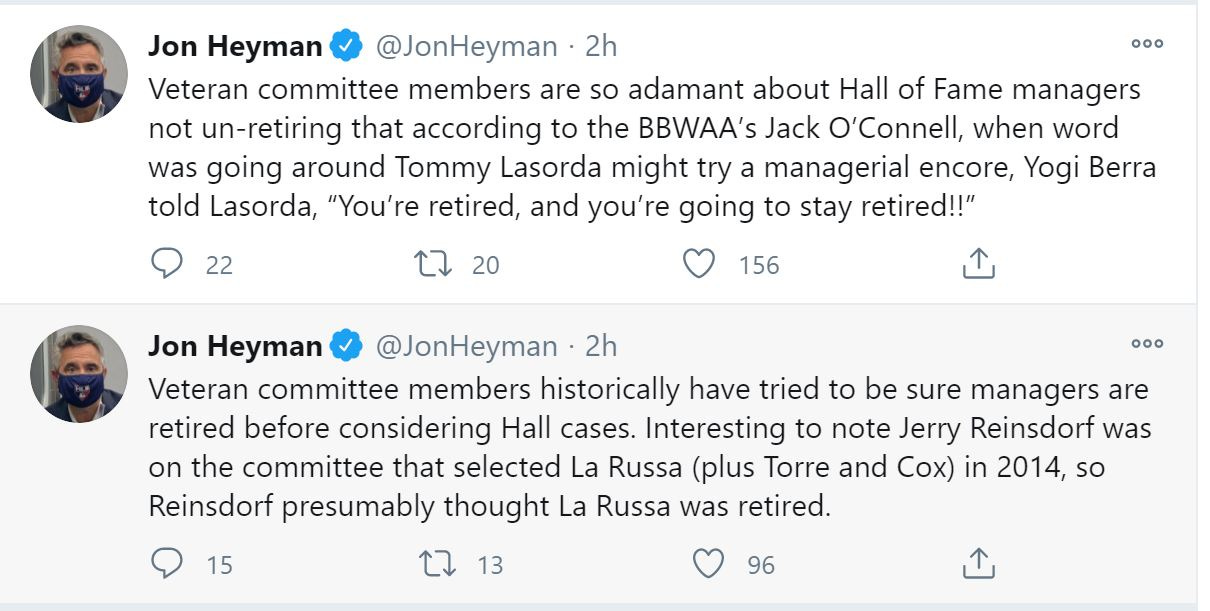 And several stories on The Athletic's website were critical of the choice, including one by Jon Greenberg who wrote:
"Only the White Sox could build a young, edgy, personable team after years of trotting out replacement-level mediocrity and then muck up the goodwill they've engendered like this."
Will it be a 'dark winter' for baseball?
Baseball lost billions of dollars, during the just concluded Covid-shortened season. Could this lead to a "dark winter" on the free agent front? Nick Groke, who covers the Colorado Rockies sent out this Tweet:

Would La Russa have lifted Snell?
Baseball is on a collision course between the analytics-driven front offices made up of numbers crunchers, who never played the game professionally, and those coaches and managers, who know what it is like to be in the trenches. To that end, Tampa Bay manager Kevin Cash is being raked over the coals for lifting Blake Snell in Game 6 of the World Series, with his club holding a 1-0 lead. Snell, who was pitching a gem, was removed after yielding a one-out single in the sixth inning, simply because he was about to start his third time pitching through the Dodgers' batting order. We all know how that move backfired.
The Twitter universe erupted, criticizing Cash for the move. I cannot tell you the number of young baseball executives I have met, who have never played the game professionally, who swear by this edict of never allowing a starting pitcher to pitch a third time through the batting order.
Cash, an excellent manager, paid the price with his data-influenced decision. It will be interesting to see if La Russa manages the same or brings some old school logic to a game that desperately needs some.
They love their Dodgers
The Dodgers won their first World Series since 1988 on Tuesday night and it sent the sales of Dodgers memorabilia skyrocketing. According to Fanatics chairman Michael Rubin, Dodgers merchandise sold faster than those of the Chicago Cubs, Los Angeles Lakers and Philadelphia Eagles in the immediate aftermath of their championship clinchers. So who cares if the World Series TV ratings were at an all-time low? The Dodgers are hot.
What is causing John Daly's cancer
He is one of the most colorful golfers on the PGA Tour. Now competing on the PGA Tour Champions, including this week's tournament in Boca Raton, Florida, Daly is battling bladder cancer. In a detailed interview with USA Today, Daly noted:
"Everything I love to eat and drink causes the stones that causes the cancer. Alcohol. Beef. Milk. Diet drinks."
Cable being tuned out
Cable television subscriptions are expected to drop over 75 million, according to a story on Sports Media Watch. That could spell bad news for many regional sports networks. It also explains why more companies are pushing their streaming services.
That's it for this week. Hope you have a great weekend and don't forget to set your clocks back one hour. As someone wrote on Twitter, "Just what we need. An extra hour of 2020."
SPORTSCASTER DAN