Discover more from Sportscaster Dan's Newsletter
Sports commentary
Legendary writer, broadcaster dies
Sid Hartman led amazing life
Good morning, all. Hope you had a great weekend. I think I have this email address issue straightened out, so feel free to email me at dan@danlovallo.com.
Tributes are pouring in for Sid Hartman, who died Sunday at the age of 100. Hartman was the legendary sports columnist for the Minneapolis-based Star-Tribune newspaper. He also was a sports broadcasting personality in Minneapolis and even served as an executive with the Minneapolis Lakers, where the club won five NBA titles, before moving to Los Angeles.
Hartman was writing his column regularly. In fact his last column appeared Sunday. And who could argue with his philosophy? On his 100th birthday he wrote:
"I have followed the advice of if you love what you do, you never work a day in your life. Even at 100, I can say I still love what I do."
I never met Hartman, but I knew people who knew him and they all respected and liked the man and his work. Hartman was no stranger to my neck of the woods. Writing regularly about the Minnesota Twins, he occasionally opined about their farmhands, including many of whom played in New Britain, CT, where Minnesota once housed their AA franchise.
Several wings of buildings have been named after Hartman and a statue of his likeness stands outside Target Field. The sporting world lost a legendary communicator on Sunday. May his memory and example live forever.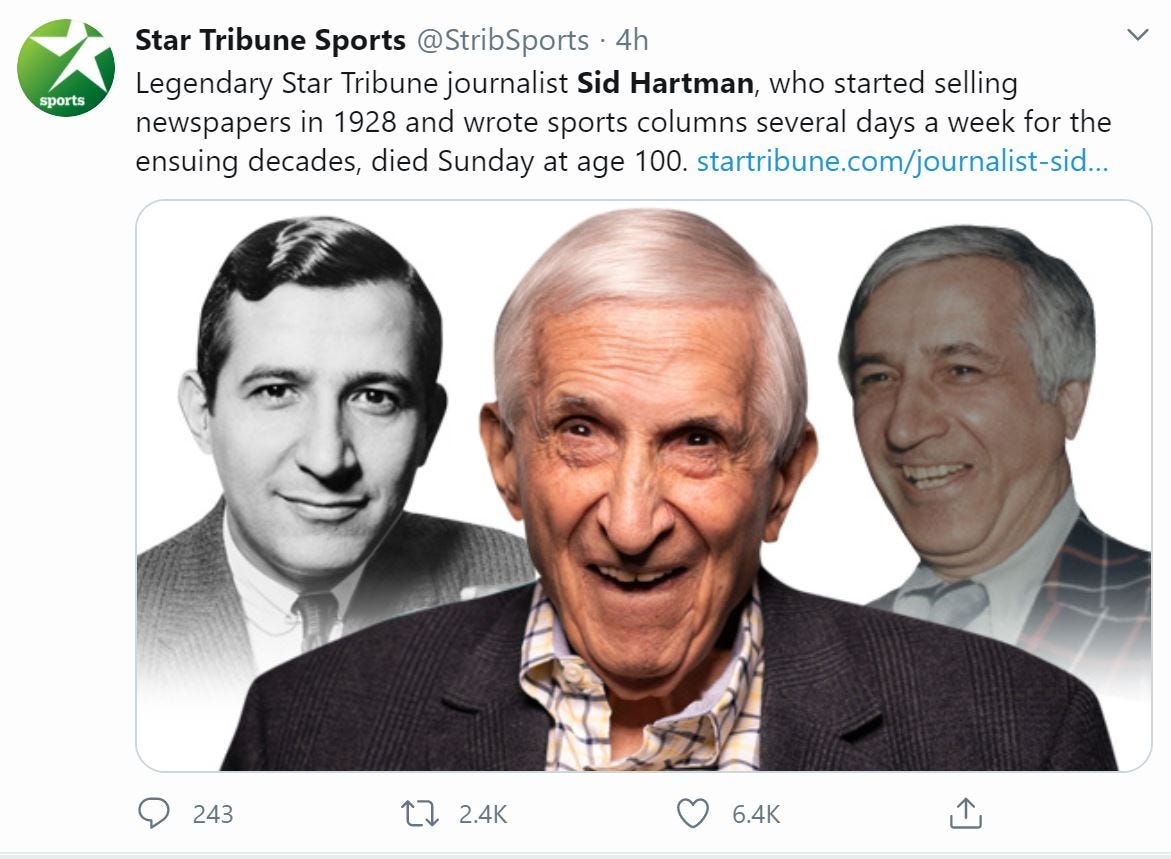 Philosophy according to Dusty
I was not among those rooting against the Houston Astros on Saturday night in the deciding game of the ALCS against Tampa Bay. I just wanted to see a good game. Besides, I've always thought the Astros cheating scandal was overrated. Stealing signs by using electronic surveillance is outlawed by baseball. Okay, I get the penalties handed down by the commissioner, but I have talked to many hitters who have told me they do not want to know in advance what the pitch might be. So how much of an edge did Houston really have?
That said, how can you not root for Dusty Baker, who even in the days of pre and post game Zoom interviews, finds time to scold a sportswriter in a classy way? As Peter Abraham wrote in the Sunday Boston Globe, Baker had this to say to one of the Astros' beat writers:
"How come every question you ask me is always negative? I've been seeing this the whole year. You know who the French philosopher (Albert) Camus is? I want you to look him up. Camus was one of the most negative philosophers around. You're too young to be that negative. I don't want you to end up like Camus."
How can you not love that comeback?
Mickelson likes this seniors thing
Phil Mickelson is getting the hang of this senior thing. In his second start, he won his second PGA Tour Champions tournament on Sunday, capturing the Dominion Energy Charity Classic. He joins Jim Furyk and Bruce Fleisher and the only golfers to win their first two senior events.
And if you're confused about this tour name, you're not alone. At one time or another, the group of professional players, who have to be age 50 or older to compete, has been called the Seniors Tour, the Champions Tour and now the PGA Tour Champions. It has also been called "life's ultimate mulligan."
On Sunday, a couple of former Masters' winners, Mickelson and Mike Weir - two southpaws I might add - battled for the championship. And it was fun to watch. With Mickelson, Weir, Furyk and other "new" big names in tow, this will be like a dose of Geritol for the PGA Tour Champions, or whatever they call it.
Will Gase be gone?
There is one remaining winless football team in the NFL and it is not the New York Giants. Can you say the New York Jets? Now 0-6, after falling to the Miami Dolphins, 24-0 on Sunday, the Jets are a laughingstock. For weeks, the New York sports media has been clamoring for the dismissal of Jets coach Adam Gase. Do not be surprised if their wish comes true, as soon, even, as today.
Two NFL head coaches have already been fired; Bill O'Brien in Houston and Dan Quinn in Atlanta. Several reports had Matt Patricia of the Detroit Lions as the next to go, but he had his bacon saved for another week, when the Lions beat Jacksonville, 34-16, on Sunday. So as Patricia survives, Gase could be next in line. Let's just say, if I were Adam, I would not send out the laundry.
DiMaggio for Williams?
I love following the Baseball History Nut on Twitter, but I could not let the Tweet about the potential trade of Joe DiMaggio for Ted Williams go by without a comment.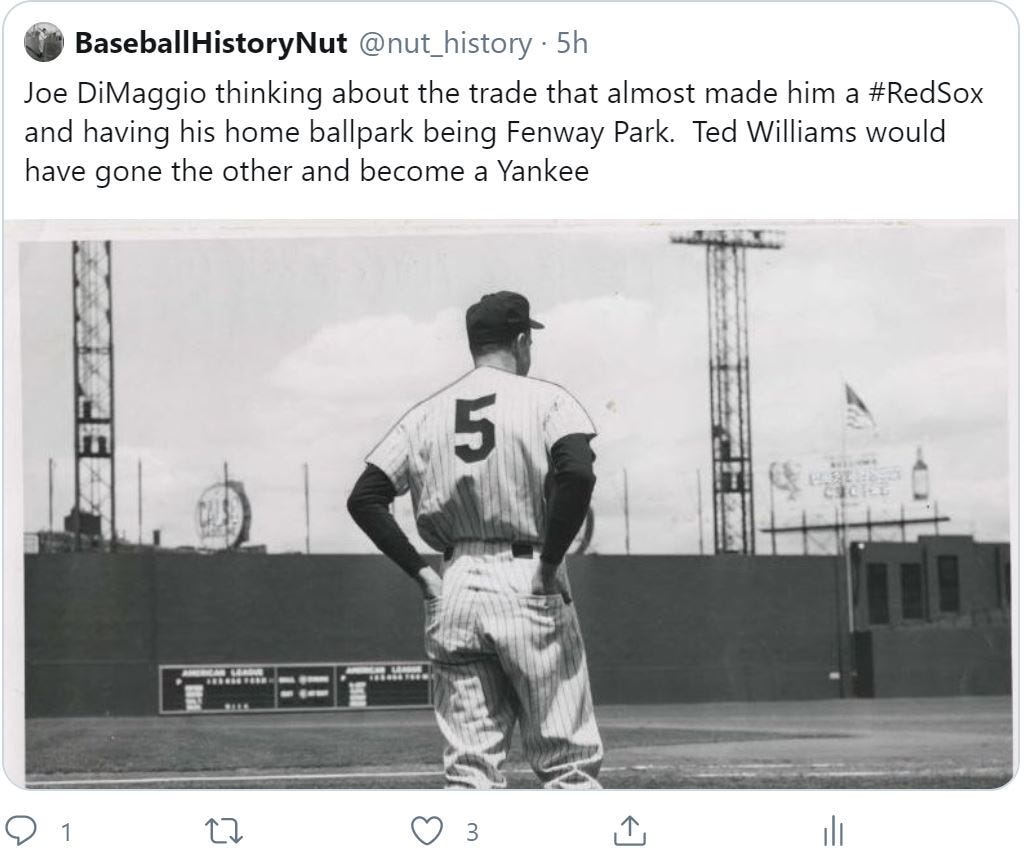 A swap of these two superstars was the figment of a late-night drinking bout between the owners of the Yankees and the Red Sox and was never close to becoming reality. I let Baseball History Nut know, linking an interview I did with the late, great Curt Gowdy, which you can listen to here. The legendary broadcaster and I touched on this subject, during our conversation. Baseball History Nut tweeted me back, commenting that such a trade was fun to imagine, and on that note, I would agree.
Now may Jets fans dream about a Belichick for Gase trade. In the meantime, thanks for being a subscriber and may your Monday be a splendid one!
SPORTSCASTER DAN