Discover more from Sportscaster Dan's Newsletter
Sports commentary
Margot the remarkable
Tampa Bay outfielder Manny Margot has character
Good morning, all. Hope you are enjoying the baseball post season, especially the performance of players such as Manuel Margot.
Margot began his career as a promising prospect in the Boston Red Sox system. He was included in a package deal with the San Diego Padres, so the Red Sox could land reliever Craig Kimbrel. The deal worked short-term for Boston, as Kimbrel was a major contributor to Boston's 2018 World Series title. That championship, however, seems light years away, and Margot has been traded again, this time to Tampa Bay.
The Rays are making a statement on how to compose a championship-caliber club on a low budget, and as of this writing are two wins away from a trip to their second World Series. In Tampa Bay's, 4-2, win over Houston in Game 2 of the ALCS, Margot contributed mightily, with a three-run homer in the first inning and a spectacular, tumbling catch over an outfield wall in the second. Like the other Rays, he looks like he is having fun playing the game, unlike the Yankees, where every play seems to foreshadow Armageddon.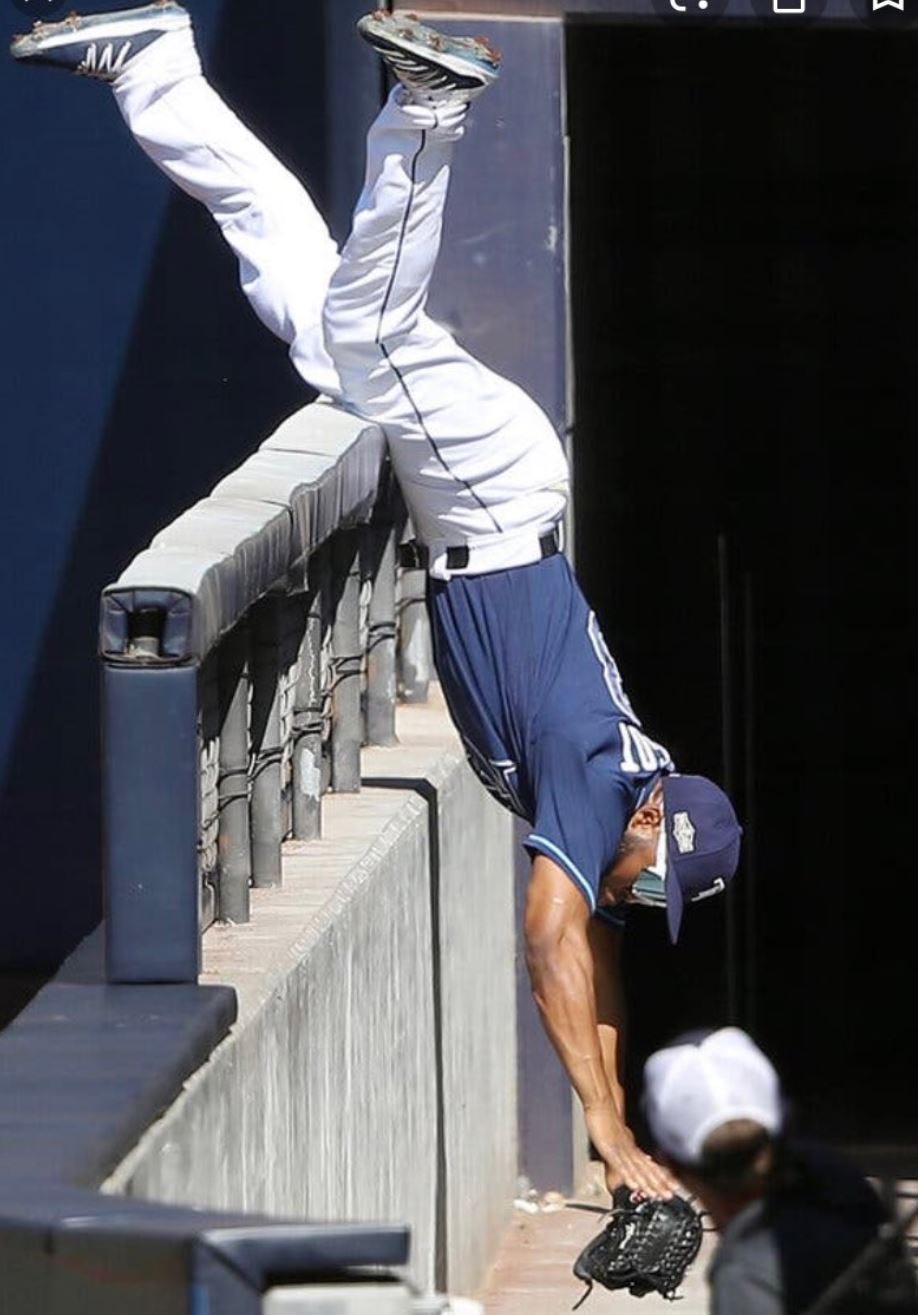 In August, writes Peter Abraham in the Boston Globe, Margot lost his father to COVID-19. It also turns out that the Red Sox scout who signed Margot, the club's current assistant general manager, Eddie Romero, had to endure his father getting sick from COVID, during the same time frame. Margot, 26, through all his travails found time to contact Romero, who told the Globe:
"Manny took time to call me several times checking up on my dad. That's the kind of person he is."
How can you not root for Manuel Margot?
Tough 2020 continues
I think it's safe to write or say 2020 has stunk. I would probably use other language, but this is a family newsletter. On Monday, we received word that another Hall of Fame baseball player, Joe Morgan, died. The announcement came three days, after we learned of the death of Whitey Ford, who died days after the passing of Bob Gibson. Also dying within weeks of each other were Tom Seaver, Lou Brock and Al Kaline. Death is a part of life, we are reminded, but what a year.
Incidentally, former New York sportscaster Spencer Ross wrote a great piece about his regular conversations with Ford. It is a must read. Here is the link. And who knew that Yogi Berra and Morgan were golfing buddies? Yogi's granddaughter, Lindsay Berra, sent out this Tweet on Monday: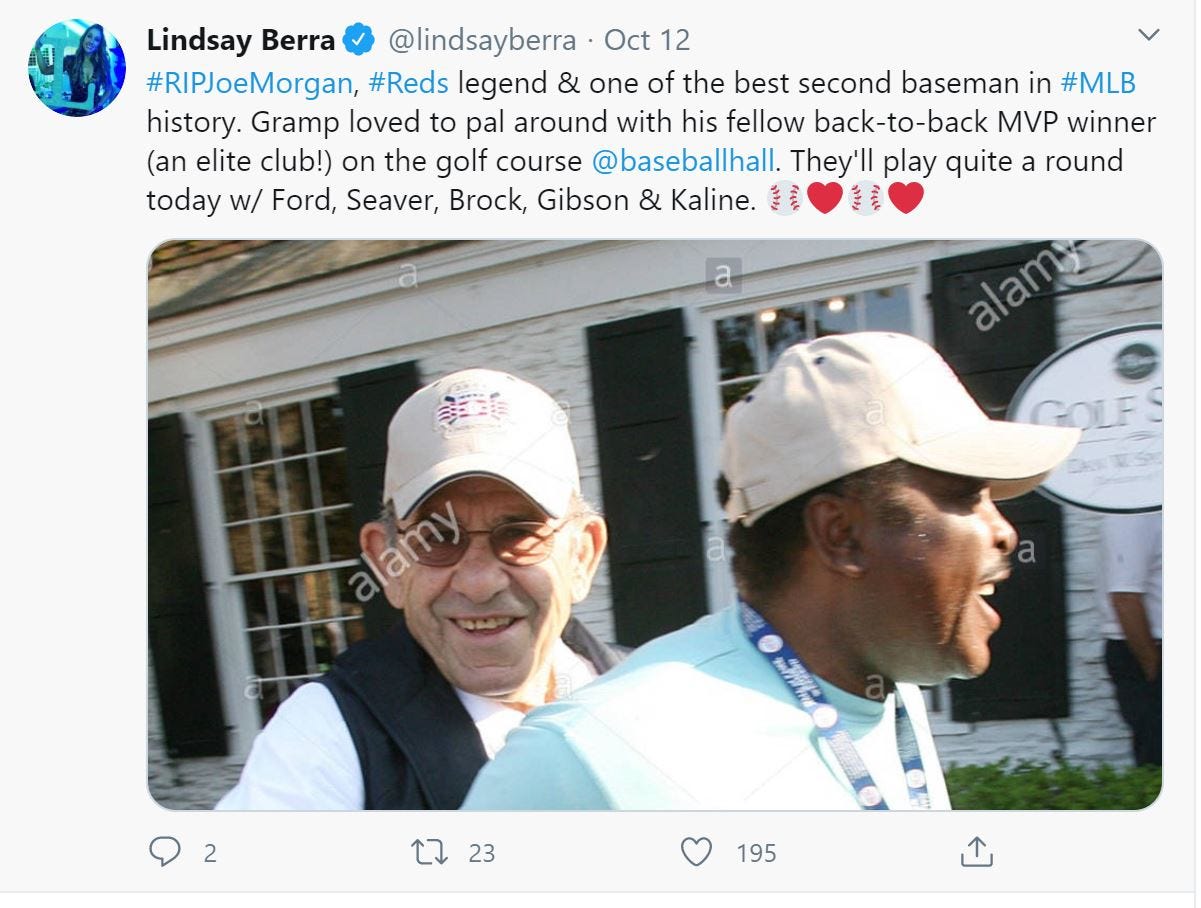 Is Tuesday night football next?
Last night the Tennessee Titans took on the Buffalo Bills in a battle of NFL undefeated teams. The contest was a make-up game, postponed last week because of COVID-19. Rescheduling for Tuesday night is leading to speculation the NFL on Tuesday night's could be a regular thing. That would mean NFL games on Sunday, Monday, Tuesday and Thursday nights in addition to Sunday afternoon games and some Saturday contests late in the season.
Don't rule out such a move. The NFL gets tremendous ratings and Richard Deitsch, writing in The Athletic, speculates a Tuesday night television package could net the league an additional $1.5 to $2 billion per season. Throw in the trend of legalized gambling of sporting events in every state, and you have the recipe of more NFL primetime games. Don't bet against it.
ESPN pushes baseball wild card format
Speaking of more TV dough, ESPN wants MLB to keep its expanded wild card format. Because of the virus, baseball added an expanded wild card round to its post season, with 16 clubs, qualifying. It was supposedly for this season only, but ESPN wants the first round, best-of-3 format to continue. The all-sports leader reports the 18 wild card games it televised attracted a combined audience of 43.7 million viewers. Those are significant numbers.
As I have written before, I predict baseball will expand the post season but a new format must include a reduction in regular season games. I believe in conjunction with the players' association, expanded playoffs and a reduced regular season could still lead to more revenue for all parties involved in the game.
In case you're wondering…
One month from today will be the start of the third round of the Masters Golf Tournament in Augusta, GA. The tournament was postponed in April because of the virus. Tourney dates are Nov. 12 through 15.
And 60 years ago today, many people awoke to this headline: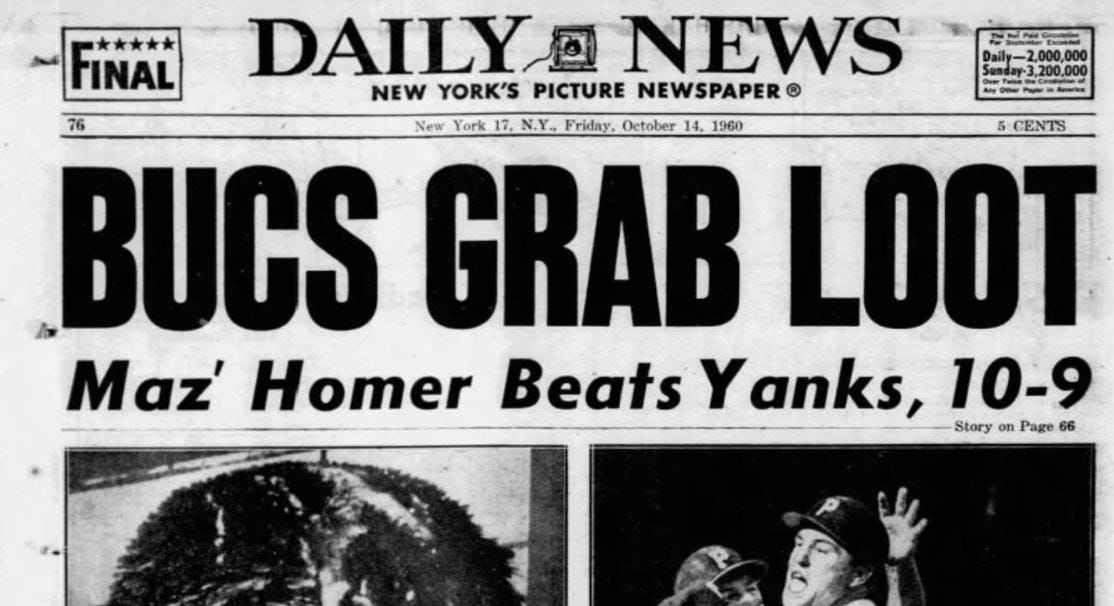 The day before, Bill Mazeroski stunned the New York Yankees with a World Series-winning home run in the ninth inning of the deciding game. Several stories had Mickey Mantle crying in the Yankees' clubhouse after the contest, Casey Stengel's last as Yankees manager.
By the way, you can view the actual television broadcast of that game on You Tube, thanks to the late, mega-entertainer Bing Crosby. The renowned crooner owned 25 percent of the Pirates. Because he and his family were going to be on a vacation to Europe, during the series, he had someone use a film camera to record the game off a television screen. (There were no home, video recorders back then.) Crosby listened to the seventh game via shortwave radio, while in Paris. Upon his return to the U.S., he watched the TV broadcast, then stowed it away in the wine cellar of his California mansion. Years later, a family member discovered the tapes, the only known television recording of the game. And thus, a significant part of baseball history was preserved.
Now go drink that morning orange juice in celebration. (Yes, Crosby owned a portion of Minute Maid orange juice too, financing the concept of frozen orange juice and reaping the healthy and financial benefits.)
Meanwhile, have a great day, and as always, thank you for your support.
SPORTSCASTER DAN