Discover more from Sportscaster Dan's Newsletter
Sports commentary
Minor League baseball's day of reckoning
O'Connor predicts lawsuits; 1400 players out of jobs
Good morning, my dear friends. Hope you had a great weekend!
Minor League baseball faces its day of reckoning this week, when its Professional Baseball Agreement with Major League baseball expires on Sep. 30. Do not expect anything to change on Oct. 1, except MLB and MiLB will no longer be affiliated. Once a new deal is reached - with MLB calling all the shots - 40 minor league baseball franchises will be eliminated, between 1200 and 1400 professional players will lose jobs, minor league club affiliations with major league organizations will change and MLB will bring MiLB under its total control.
Pat O'Connor, the president of Minor League Baseball, has already announced his retirement at the end of 2020. In an extensive interview with Evan Drellich of The Athletic (No link to the story here, because the website is behind a paywall), O'Connor walked a fine line about current negotiations between MLB and minor league team owners, except to say he is not part of the talks. However, when asked if there would be lawsuits O'Connor responded:
"I would be shocked if there weren't lawsuits, but I am not convinced that there are valid claims to lawsuits. Somebody will sue somebody over something. But right now, we don't know what the end result is. No one has a claim right now. What are you going to sue for? The fact that you don't like what you're hearing? Well, it's not a deal yet."
O'Connor predicts a deal may not be completed for weeks or even months and that is bad news for the surviving minor league clubs. Ticket packages have to be sold - provided attendance at games will be permitted next season - billboard advertisements, etc. What's the schedule? What are the affiliations? Promotions? Believe it or not, the well-run minor league franchises already have much of the following season's plans in place by this time, with the finishing touches applied come October. Now, however, nothing is in place, thanks to a soon-to-be-expired agreement and too many moving parts to mention.
More layoffs
Not only are more than a thousand minor league players going to be out of jobs, many people, working for major league clubs are losing theirs. In previous newsletters, I have mentioned organizations that are laying off personnel at alarming rates. Add the Chicago Cubs to the list. Last week, the Cubs issued pink slips to 25 percent of their business staff. That's on top of the cuts they made on the baseball side last month. Clubs continue to layoff people on the premise, empty or near-empty ballparks will be the norm again, at least through the first months of the 2021 season.
Roenicke out as Red Sox manager
The Boston Red Sox have dismissed Ron Roenicke, after one Covid-short season, as manager. The move comes as no surprise, as I predicted in my Sportscaster Dan podcast last week. I also predicted that Billy Eppler, the Angels GM, was also on the hot seat, and now he is out of a job. Don't be surprised if he returns to the Yankees.
As for Roenicke, let me translate some comments made by the Red Sox chief baseball officer Chaim Bloom, about the manager's dismissal.
Bloom: "He did a tremendous job under really challenging, basically unprecedented circumstances, and although our on-field results were not what we were looking for this season, the environment that he helped maintain was a productive one and positive one."
Translation: We expected him to pull a rabbit out of his hat and finish at .500, making the playoffs with the crap roster we gave him.
Bloom: "Our responsibility is to do the right thing for the Boston Red Sox over the long term, deciding that a new voice, a different energy is something that would serve us well over the long haul."
Translation: At 64, he is too old to be our manager and we hope to turn this thing around in two or three years. Do we really want a 67-year-old at the helm in three years? And is there any way I can steal Kevin Cash from Tampa Bay?
Bloom: "I don't want to get into any specific candidates (about a new manager) right now."
Translation: I want to pick my own man, but if it's Alex Cora returning as manager, then I don't have the independence to run this show that was promised me by ownership, when I was hired.
Bloom, by the way, did not rule out a return to the organization by Roenicke in another capacity, something else I predicted in the podcast. (Hey. I'm on a roll here with these predictions, which is unusual. Let me pat myself on the back. Ow! I just pulled a muscle.)
Remembering Phil Rizzuto
One of my favorite broadcasters would have turned 103 years old last Friday. Phil Rizzuto, the New York Yankees Hall of Fame shortstop, died in 2007. He was born on Sep. 25, 1917. Rizzuto broadcast Yankees games on radio and television for 40 seasons. Although he is remembered for leaving games after the seventh inning, reading birthdays and talking about his favorite cannoli, the fact is "The Scooter" was entertaining and in his prime, an excellent play-by-play broadcaster. I had the chance to meet Phil on a couple of occasions and he was terrific.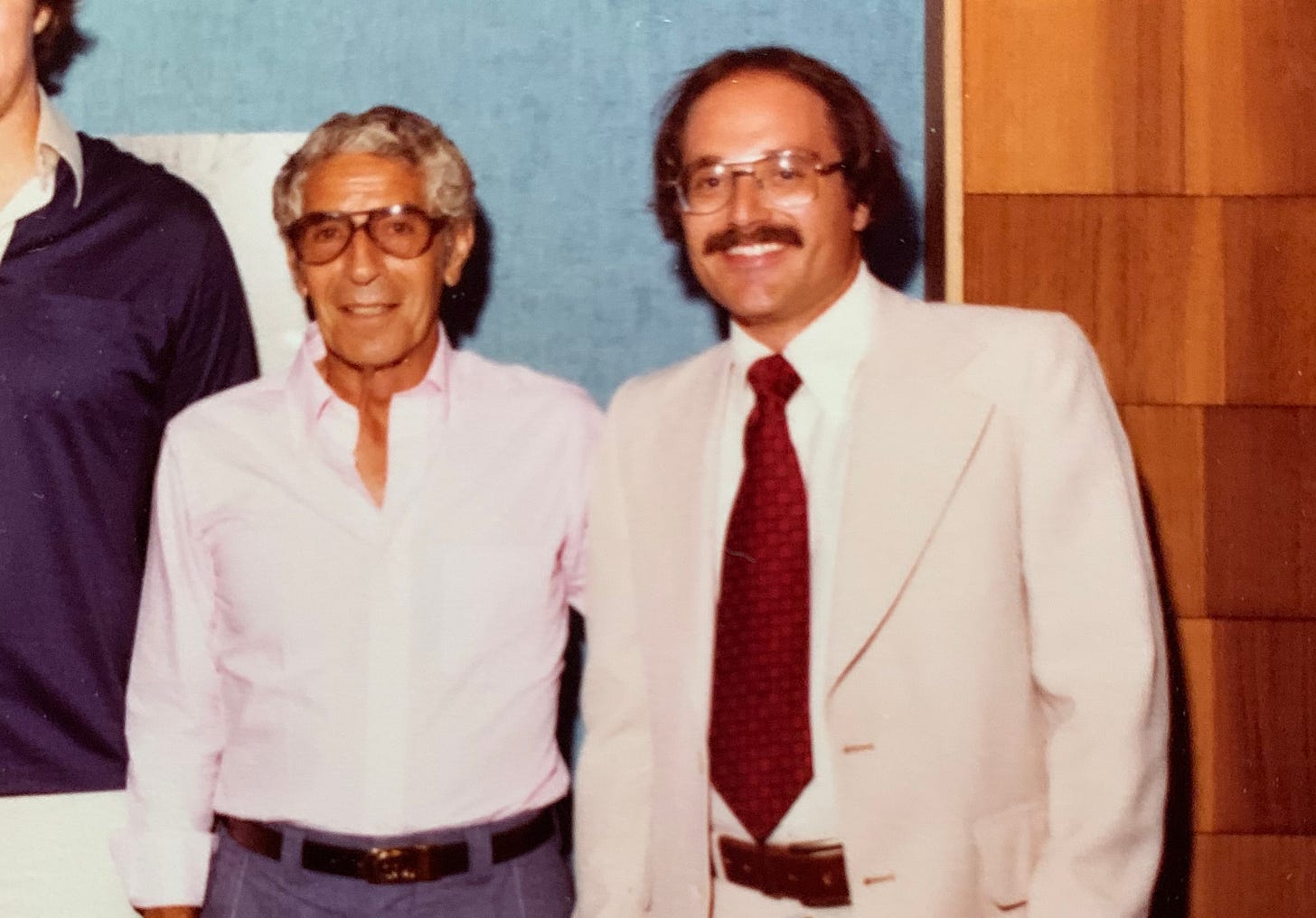 By the way, if you want to listen to old baseball broadcasts, here are two links to great resources:
Will broadcasters stay put?
New York Daily News sports media critic Bob Raissman writes what I have written about in other forums: that it is possible broadcasters for major league clubs will not be traveling with those clubs to broadcast road games. In this Covid-era, where the technology exists to make broadcasting away from a venue seem as if you are on location, the dollars and cents do not add up to have broadcasters travel with a club. Expect the minor leagues to also follow suit on this format. The paradigm is changing in many ways.
By the way, a very little known fact. Raissman and his NY Post counterpart Phil Mushnick once hosted a weekly radio show about the sports media, on WFAN, when the all-sports station was still at 1050 on the AM dial. Believe it or not, I was actually a guest on the show. Also, Mushnick visited me in the booth, while he was on vacation in Maine and I was in Old Orchard Beach, ME to broadcast a Richmond Braves at Maine Guides game. He also interviewed me for a TV Guide article about ex-ballplayers turning broadcasters.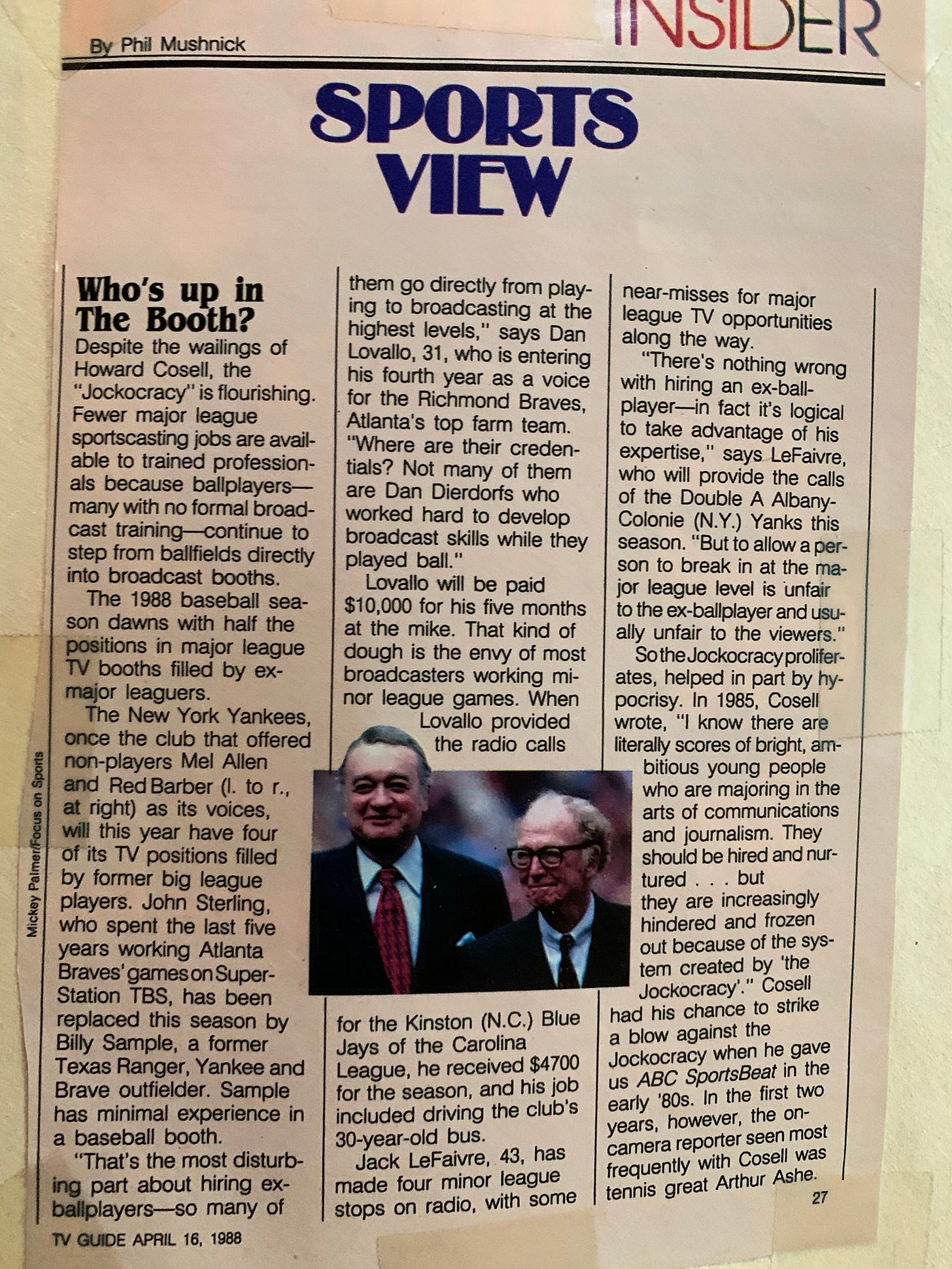 Tampa Bay?
Finally, as the baseball post-season approaches, I would not be surprised if the Tampa Bay Rays won it all. They have the starting pitching, bullpen depth and hubris to go deep into the playoffs. In fact, the New York Yankees worst fear is if they face them, either in the first round or along the way.
Happy Birthday Mom and Dad
Today would have been my father's 97th birthday. His love of sports was transmitted to me and I dare say my two brothers. This past Saturday would have been my mother's 94th birthday. I pray for their souls everyday. Happy Birthday, Mom and Dad!
Well that's it for today. Thanks for subscribing to the newsletter and we will meet again on Wednesday.
SPORTSCASTER DAN