Discover more from Sportscaster Dan's Newsletter
Sports commentary
Minor pay a Supreme deal
MLB owners could be on the hook for millions
Good morning my dear friends. Hope your week is going well!
Minors get Supreme attention
With minor league baseball already at a crossroads, now that the agreement between Major League Baseball and the National Association of Professional Baseball Leagues has expired, comes another major moment. On Monday the U.S. Supreme Court ruled that minor league players can proceed with their class action suit against MLB. The issue? Minimum wage.
The lawsuit, filed in 2014 by former professional ballplayer turned lawyer Garrett Broshuis, contends minor league players were compensated below minimum wage, when one calculated the hours the players put in vs. the pay they received. And in the case of spring training, players were not compensated. On Oct. 5, opening its new session, the Supreme Court threw out MLB's attempts to get the players' lawsuit dismissed. In a nut shell, what it means is the players can proceed in the lower courts with their lawsuit and if MLB loses and does not appeal, minor league players could be owed millions in backpay.
This latest episode is the last thing MLB owners need, seeing they are already claiming a loss of billions of dollars with a truncated season and no fans in the stands. Ball clubs have already dismissed hundreds of front office employees. On Monday, the Milwaukee Brewers revealed they may trim payroll, blaming COVID-19. There is no guarantee baseball with fans in the stands will return to normal in 2021. If MLB loses the lawsuit, owners will have to pony up millions more.
My guess is an out-of-court settlement will be reached but look for an effort to unionize minor league players, even though or because the future minor league system will be totally under control of the major leagues.
Good news for baseball ratings
Viewing of MLB's truncated regular season was down on television in 2020, but up 4 percent from 2019. Say what? Viewing was up because for the first time, Nielsen included streaming numbers in its calculations. And why shouldn't those numbers be included? For more and more of us, especially the younger demographics, streaming is the way we consume our media. The data shows viewership was up 4.2%, when 25 regional sports networks are combined.
Not surprisingly, television ratings for the last place Boston Red Sox were in the toilet, dropping more than 50 percent. The New York Yankees delivered the highest average viewership (260,592) while the Cleveland Indians scored the highest rating at 6.61.
The 'Voice' silenced on this date
On this date in 1964, the World Series between the New York Yankees and St. Louis Cardinals got underway, but the voice synonymous with the Fall Classic was not behind the microphone. The "Voice of the Yankees," Mel Allen, was given the boot. Allen was identified with all the major events in the 1940's, 50's and early 60's. He was everywhere it seemed, calling Yankees games on radio and TV, the World Series, All-Star games, college football on TV, including the Rose Bowl and serving as the Voice of Movie Tone newsreels in theaters. At one point, Variety magazine listed his voice as one of the most identified in the world.
It was a precipitous drop for Allen, who was the feature story in a 1962 Sports Illustrated edition. By 1964, Allen had lost something off his fastball, wrote preeminent New York Daily News sports columnist Dick Young, in the Oct. 8 edition of the News, two days after the story broke that the Yankees had tapped their broadcaster Phil Rizzuto to call the Series on radio and TV along with Joe Garagiola, Curt Gowdy and Harry Carey.
The New York Times ran an extensive story in its Oct. 7 edition, quoting Allen on his reaction to being snubbed for what would have been his 21st World Series broadcast.
"I've been in this business long enough not to be surprised by anything," Allen told The Times' media critic Val Adams.
Meanwhile, the Yankees kept Allen twisting in the wind, refusing to acknowledge that he had been fired. They issued a vague statement that was printed in the Oct. 7 Daily News:
"The Yankees, the commissioner and NBC agreed that it would be best for another announcer to do the games. Mel, you know, has been doing the series for a long time."
In his same Oct. 8 column, Young wrote that the rumor making the rounds at the World Series was that former Detroit Tigers broadcaster and Hall of Fame player George Kell would replace Allen in the Yankees' broadcast booth in 1965. Turns out, Young was wrong. At a Dec. 17, 1964 luncheon, the Yankees introduced Rizzuto's World Series broadcast partner Joe Garagiola, as their next broadcaster, joining Rizzuto, Red Barber and Jerry Coleman.
Allen's career was never the same after his Yankees dismissal. He did sporadic events, including some Milwaukee Braves games in 1965, Cleveland Indians games in 1968, some college football games and other free lance assignments. Yankees owner George Steinbrenner brought him back to broadcast some Yankees games on their cable channel.
In 1968, Allen came to my home town of Torrington, CT to speak at a banquet. You can listen to his talk by clicking here.
Allen actually had a relationship with Torrington. He and his brother Larry owned a soda distributorship in Stamford, CT and the business brought them occasionally to northwest Connecticut. It was through some contacts in that area, that I was able to bring "The Voice" back to Torrington in 1979 to speak at a banquet sponsored by the radio station at which I worked and below is a picture. From left to right are my two former high school coaches and dear friends: Lou Moscaritolo and Connie Donahue, Mel and yours truly with hair.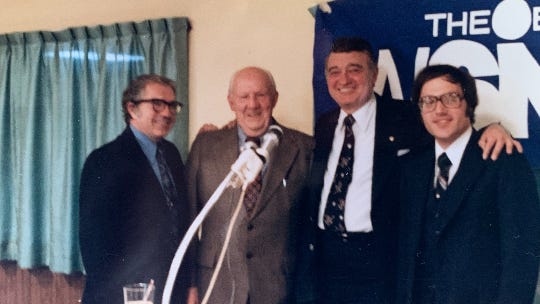 It was about this time, Allen became associated with a new, weekly syndicated show, serving as the host of "This Week In Baseball." When I was broadcasting games for the Kinston Blue Jays, I had players tell me how much they enjoyed the program and its host, saying he (Allen) "had a pretty good voice." Few of them knew the history of this Hall of Fame broadcaster, but it is fair to say TWIB provided the perfect capstone to Mel Allen's illustrious career.
Monday Night Football on CBS
As we wrap up our Wednesday newsletter, good for CBS' Jim Nance to give us some broadcast history. Because of COVID, the Patriots at Chiefs game was moved from Sunday afternoon to Monday night and CBS televised the game, as ESPN already had the Monday night game between the Packers and Falcons. It also offered Nance the chance to remind us that CBS had televised a couple of Monday night games in the 1960s. In fact, on Monday night, Oct. 27, 1969, CBS carried the New York Giants at Dallas Cowboys. If you can believe it, kick off was at 9:30 so CBS could lead in to the game with the popular sitcom Mayberry R.F.D., the successor to the Andy Griffith Show.
It is worth nothing that then NFL Commissioner Pete Rozelle went to CBS and offered the network a package of Monday night football games for the following season. The network turned it down, claiming it would not give up the highly-rated prime time Monday hours for professional football. ABC took the package instead, and the rest, as they say, is history.
Well, as always, thank you for allowing me to be a part of your email audience, and I will be in your email box again on Friday with the newsletter, if not sooner with my podcast.
SPORTSCASTER DAN