Discover more from Sportscaster Dan's Newsletter
Sports commentary
Never forget 911
Today marks the 19th anniversary of 9/11. Like many, who lived through that horror, it seems like only yesterday. I was on the air on WDRC-AM and the Talk of Connecticut radio network, in my regular position as News & Sports Director on the Brad Davis radio program. Like most radio stations, we had a TV set in the studio tuned to one of the network morning shows, when suddenly, we watched this attack unfold. And there was no mistake about it. Anyone watching knew this was no errant plane, accidentally veering off course. (I still get a pit in my stomach, when envisioning both towers crumbling and cannot imagine what it must have been for those on the scene.)
In real time, we watched and reported to our audience, what we were viewing. Because our parent station owner, Buckley Broadcasting, also owned WOR-AM in New York City, we were able to interview a WOR broadcaster on our air, to get a firsthand report of the sobering events. We then switched to WOR to carry some of that station's on the scene coverage.
Below is a picture I took of the Twin Towers on Sep. 11, 1999, two years to the day, before the attack. That year was the first of many radio station cruises I co-hosted with my dear friend from Synnott Travel, Rick Synnott. We were cruising out of New York City, bound for Bermuda, and this was a picture I could not pass up.
Coincidentally, two days before Sep. 11, 2001, we were returning from another station cruise. This time we cruised into Miami, FL and then flew home to Bradley International Airport. The flight pattern took us to the east of Manhattan. Invariably, everyone on that 727 turned to the left to peer out the windows and marvel at the Twin Towers. No one could have imagined what was about to befall this area and our lives in less than 48 hours?
From the Twin Towers, to the Pentagon, to the field in Pennsylvania, our world changed forever.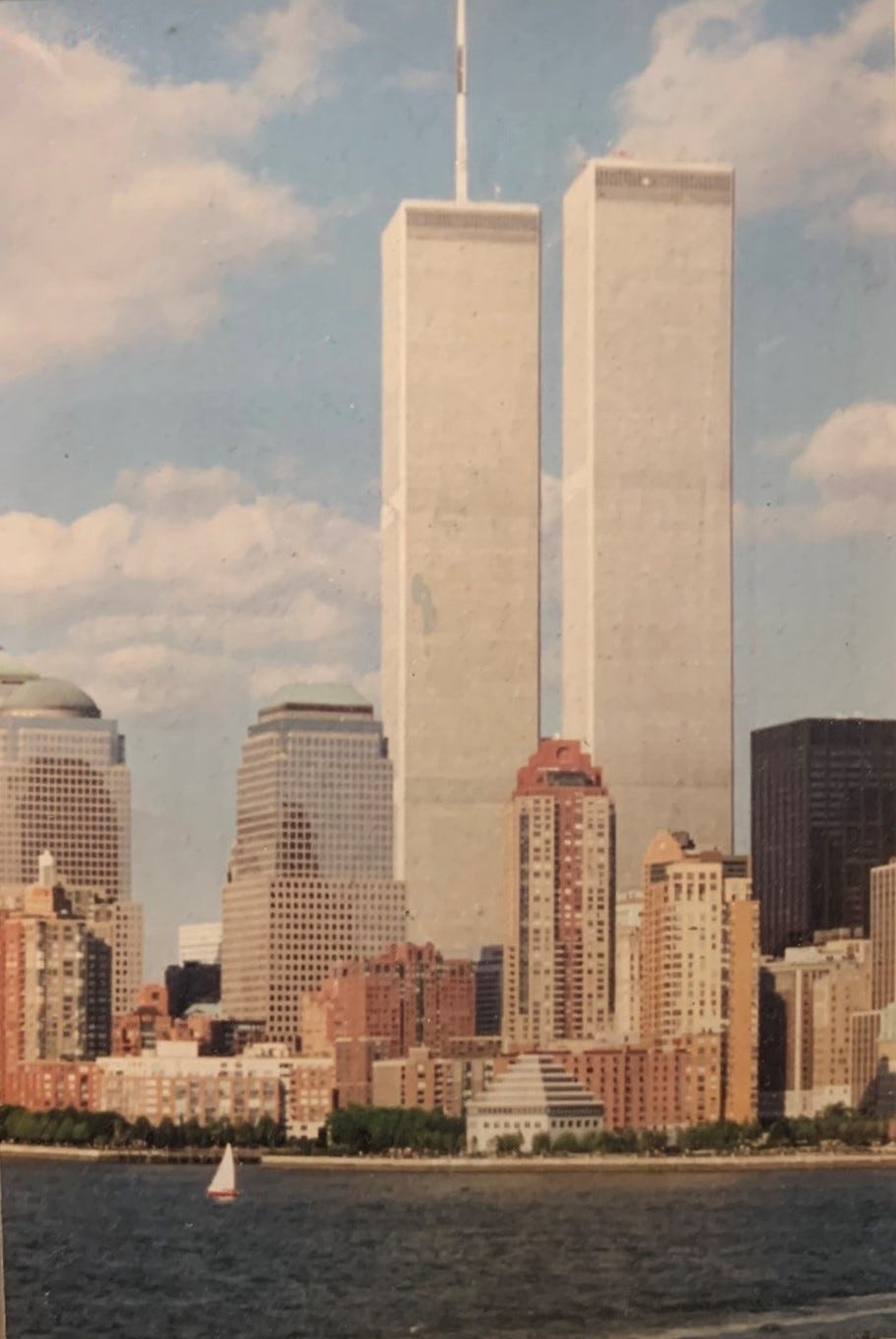 Did you see Tony Romo's contract?
I have mixed reactions about the start of the NFL season. Sports is becoming much too politicized for my tastes and being the nation's most popular sport, professional football is in the vanguard of this movement. I watch sports as an escape, or as the late Chief Justice of the Supreme Court Earl Warren is reputed to have said: "I read the sports pages to read about man's successes and the front page to read about man's failures." So I don't know if I will ardently watch the NFL. Put it this way; the defending Super Bowl champ Kansas City Chiefs are hosting the Houston Texans tonight, and I'm tuned to the Red Sox at Tampa Bay baseball game.
I guess that's a long-winded way of saying did you see Tony Romo's contract? The former Dallas Cowboys quarterback, in three years time, has risen to be the NFL's top game analyst. After last season, he was a free agent, when his contract at CBS expired. That's when the battle for his services began and he decided to remain at CBS. You would too, if you were offered a 10-year $180 million contract! That's more than he made as a player. Andrew Marchand reports in his New York Post column that the contract translates to $900,000 per game. Nice work, if you can get it.
Tom Seaver almost a Yankee
Last week, Hall of Fame pitcher Tom Seaver passed away. He won more than 300 games, pitching for the New York Mets, Cincinnati Reds, Chicago White Sox and Boston Red Sox. But did you know, he came close to pitching for the New York Yankees? Of course, Seaver ended up broadcastingYankees games, but 35 years ago today, the Yankees and Chicago White Sox almost made a waiver deal, before Yankees owner George Steinbrenner nixed the trade, claiming the price was too steep.
At the time, the Yankees pitching was atrocious. However, under manager Billy Martin, the Yankees, led by Don Mattingly and Ricky Henderson, were an offensive juggernaut. Before Steinbrenner put the kibosh on the deal, they had won 22 of 26 games and trailed first place Toronto by 1 1/2 games. They ended up losing the division by one game, leading one to wonder what might have been, had Seaver ended up in Yankees pinstripes.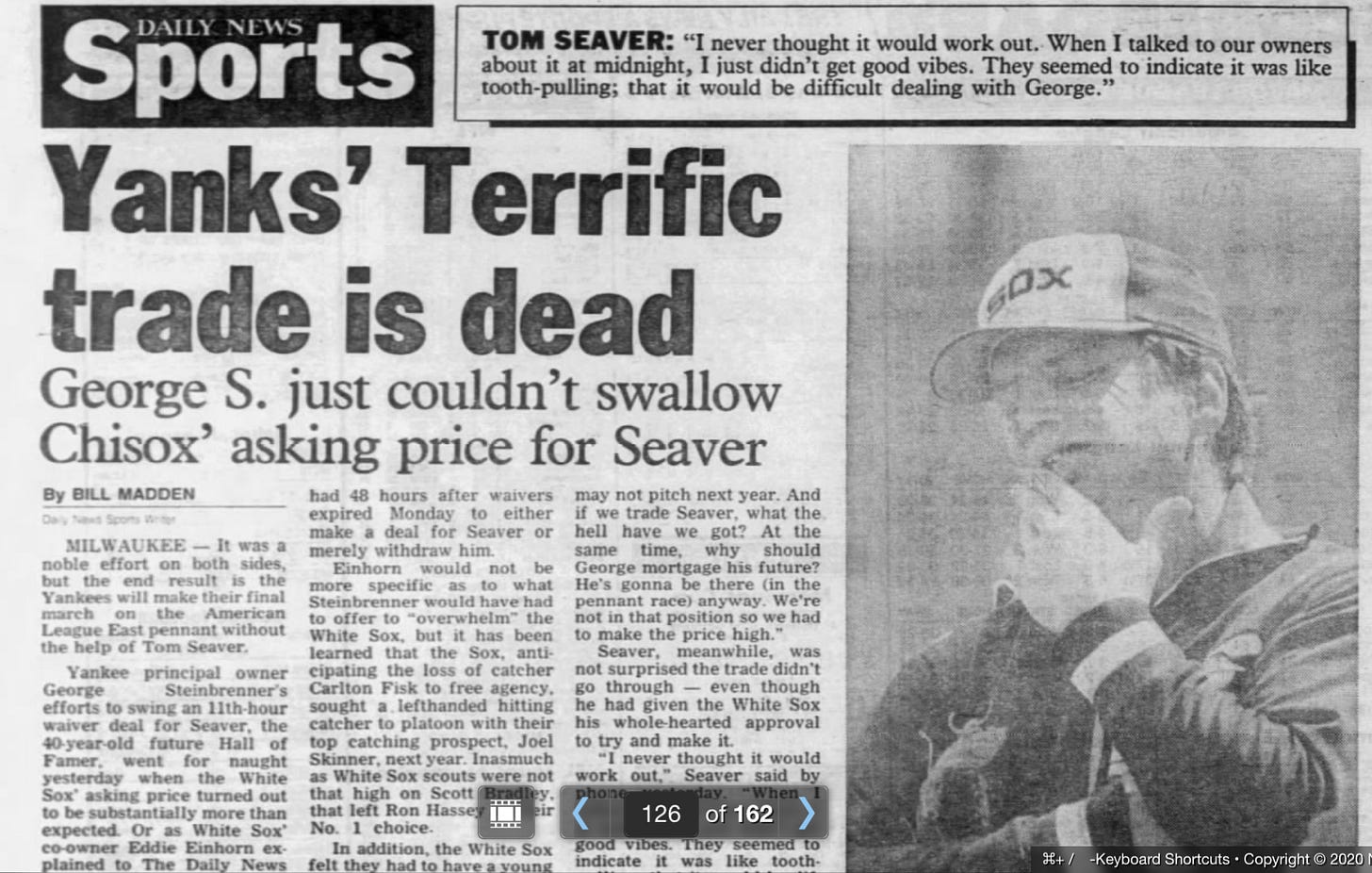 Tweet of the day
Yesterday, Arnold Palmer would have turned 91. The "Tweet of the Day" belongs to Jack Nicklaus…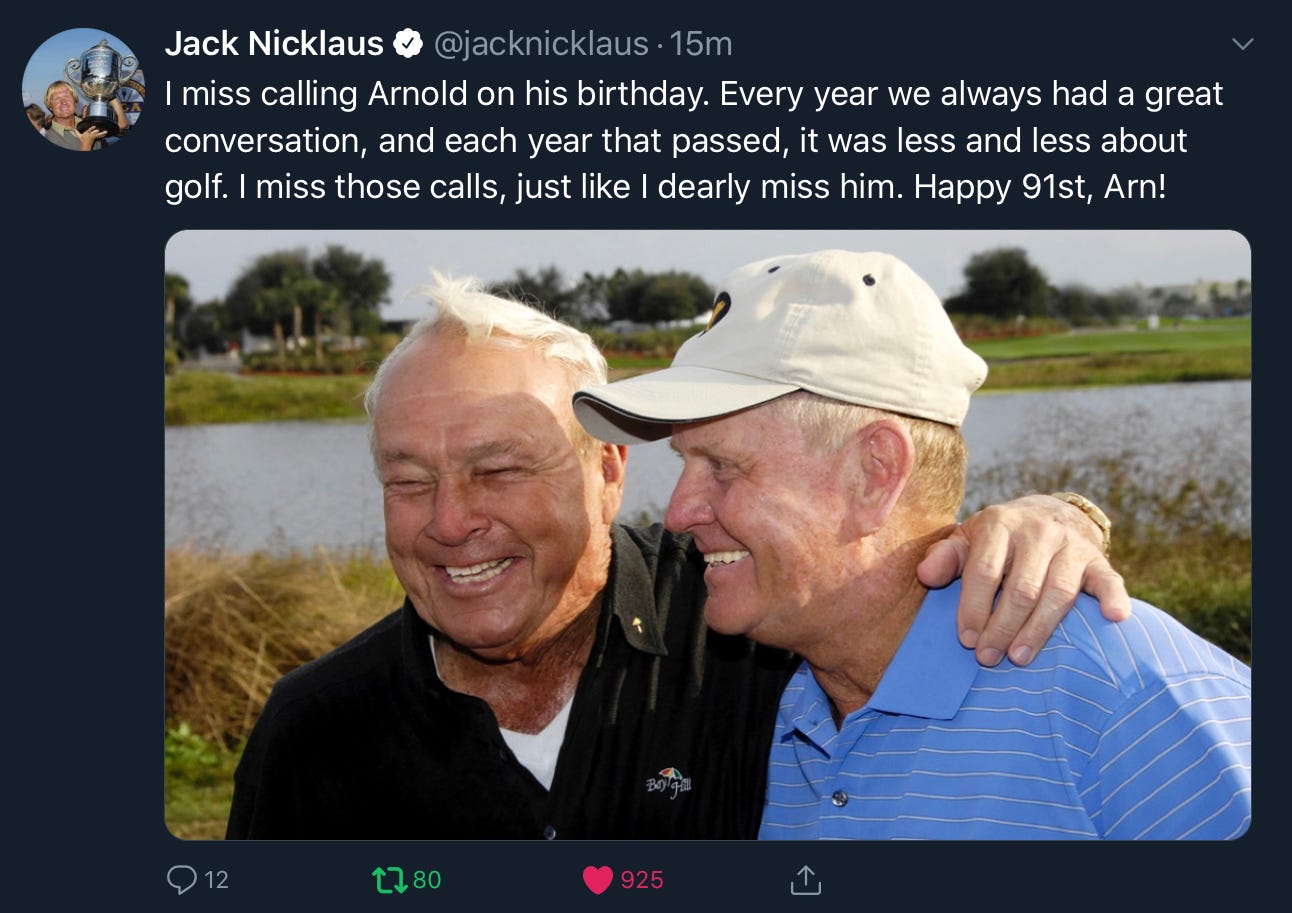 That's it for this edition of the newsletter. As always, thank you for your support and remember to never forget! Have a great weekend.
SPORTSCASTER DAN