Discover more from Sportscaster Dan's Newsletter
Sports commentary
Players opposed to playoff expansion
Beyond 2020, MLB players don't want more games
Good morning, my friends. I hope your weekend was a splendid one. Here in the northeast, the weather was spectacular.
Players not crazy about more playoff games
Major League Baseball enters its second week of post season action today with the start of the Divisional Series. After a 16-team field battled for the first time ever in a best-of-3 series, this week's best-of-5 series will be the next step, enroute to the League Championship Series and the World Series, both best-of-7 sets.
Although you might think it is a given that expanding the playoffs would be a home run, like everything else in baseball, not so fast. MLB wants more clubs to qualify - think more television money - but the Players' Association is opposed to it, as Ken Rosenthal writes in The Athletic.
According to what I have read in various forums, including Rosenthal's piece, players fear less competition for free agents and thus reduced salaries, if the field is enlarged. Their logic? Why would clubs want to spend big on free agents, when they might be able to skate into the post season with an average club or in two cases in this truncated season, sub-.500 teams. They also fear the wear and tear on their bodies more playoff games would bring.
As a fan of the expanded playoffs, I believe both sides can reach an agreement. In fact, here is a portion of my Dan Plan for baseball, which I will reveal soon:
Simply reduce the number of regular season games - 162 games are too many.

End the regular season the weekend after Labor Day

Start the post season nine days after Labor Day

End the World Series by mid-October. Who wants to watch night games with players freezing in late October or early November, regardless of the stakes?

Incentivize the system to convince the Players' Association free agency is not being compromised
Baseball is missing a golden opportunity, if it doesn't follow this or a similar plan. Obsessed with finishing second fiddle to football, baseball does not help itself by playing numerous, meaningless regular season games, as the NFL season is kicking off. By diving right into the post season to coincide with the NFL's start, baseball concedes nothing, while bringing compelling games to the country. (Although the sport has to do something to shorten 4-hour, 9-inning post season games.)
I think we can all agree 2020 has been a disaster, across all frontiers, including baseball. But the opportunity exists for the game to become relevant, particularly with the demographic with which it is trying to appeal. Here is hoping the rancor that exists between the owners and association will diminish, and a system along these lines is created.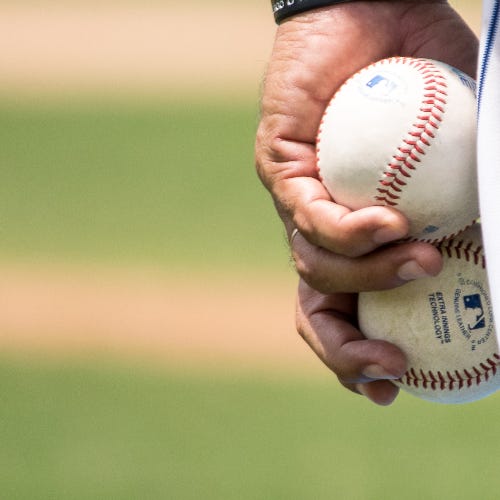 Rooting for Mattingly
If truth be told, I am rooting for the Don Mattingly-managed Miami Marlins this week in their NLDS against the Atlanta Braves. I always felt Mattingly's skills as a manager were underrated. This great, Yankees player lost out on managing the only MLB club on which he played, because his competition - Joe Girardi - seemed more prepared for his job interview. But Mattingly then went on to successfully manage the Dodgers and is now deserving of "NL Manager of the Year," with the job he has done in Miami.
There are many things to like about Mattingly, particularly how he relates to his players and that he wears number "8" in honor of my favorite player, Yogi Berra. But what I like most is how he doesn't treat the sacrifice bunt or the stolen base like the plague. In other words, although he is not afraid to utilize the voluminous data that is the backbone of analytics, it is just part of an approach that also includes some good, old fashioned baseball. Not to mention that the Marlins realize that it doesn't take a whiz kid from Harvard or Dartmouth to realize the key to any championship caliber club is pitching, which the Marlins have. So go Miami. May you win the series on a squeeze bunt in the bottom of the ninth inning.
56 years ago today
At the close of action on Sep. 20, 1964, the Philadelphia Phillies held a 6 1/2 game lead over the Cincinnati Reds and St. Louis Cardinals with 12 games to play in the National League pennant race. World Series tickets in Philadelphia were being printed.
After leaving Los Angeles, following a 3-2 victory, the Phils proceeded to lose 10 straight to the Reds, Braves and Cardinals. They won their last two games against Cincinnati, but by then it was too late. The final NL Standings on the morning of Oct. 5, 1964 read:

The baseball world was stunned, but apparently Phillies ownership was not. On this same date, they awarded the architect of this collapse, manager Gene Mauch, with a new, two-year contract. I am thinking in today's sports environment, Mauch would have been shown the nearest door.
Pats-Chiefs not a given
The big build up to this past weekend's Pats-Chiefs game was put on hold with the results of recent COVID-19 tests, specifically Patriots' QB Cam Newton. But before you get out the popcorn and refreshments for tonight's rescheduled nationally televised game on CBS, you might want to consider the headline on the Boston Globe's website Sunday night:
"Patriots-Chiefs game to kick at 7:05 p.m. Monday pending another round of negative COVID-19 test."
That word pending, always sends up warning flags for me. Just sayin.'
I'm available
Just watched the latest Subway commercial, involving Patriots' coach Bill Belichick. In this ad he is sitting on a bench in front of a Subway, munching on a sub. Presumably it was filmed where the first Subway ad, which he recorded, was filmed, in downtown Branford, CT. My point is, I can get to Branford in an hour, sit on a bench and munch on a Subway too, if they're looking for extras. And my shirtsleeves are already cut.
Sergio surges
Couldn't help but admire 40-year-old Sergio Garcia's victory Sunday in the Sanderson Farms Championship, his 11th PGA Tour victory and his first win on U.S. soil since the 2017 Masters. He said all the right things in his comments, such as praising his family, his coaches and sponsors, etc. He also choked up, when mentioning two of his uncles died from COVID. Garcia was not afraid to say how much hard work and "belief in yourself" helped in getting his game back on track. What's there not to like about a golfer like Sergio?
Well, that's it for today. Have a tremendous Monday and we will meet again on Wednesday with the newsletter, if not sooner, with The Sportscaster Dan Podcast. Most importantly, be safe and thank you for your support.
SPORTSCASTER DAN