Discover more from Sportscaster Dan's Newsletter
Sports commentary
Who's on third?
Yankees' dugout occupation historical
Good morning, all. It's FRRIIIIIIIIIDAYYYYYYYYY!
The Yankees on third
As the New York Yankees and Tampa Bay Rays play Game 4 of the ALDS in San Diego, where New York needs a win to stay alive, I cannot help but notice the Yankees are occupying the third base dugout, as the home team. Of course, everything is topsy-turvy, during this Covid-19 season, including playing home games on another coast. But, as the venerable Vin Scully would say, "it is interesting to note" that the Yankees' dugout is on the third base side of the field.
When the original Yankee Stadium opened in 1923, the Yankees always occupied the third base dugout. It wasn't until the 1946 season that they switched to the first base side. So why, you might ask, was Babe Ruth standing outside the third base dugout, when that award-winning picture was taken on June 13, 1948?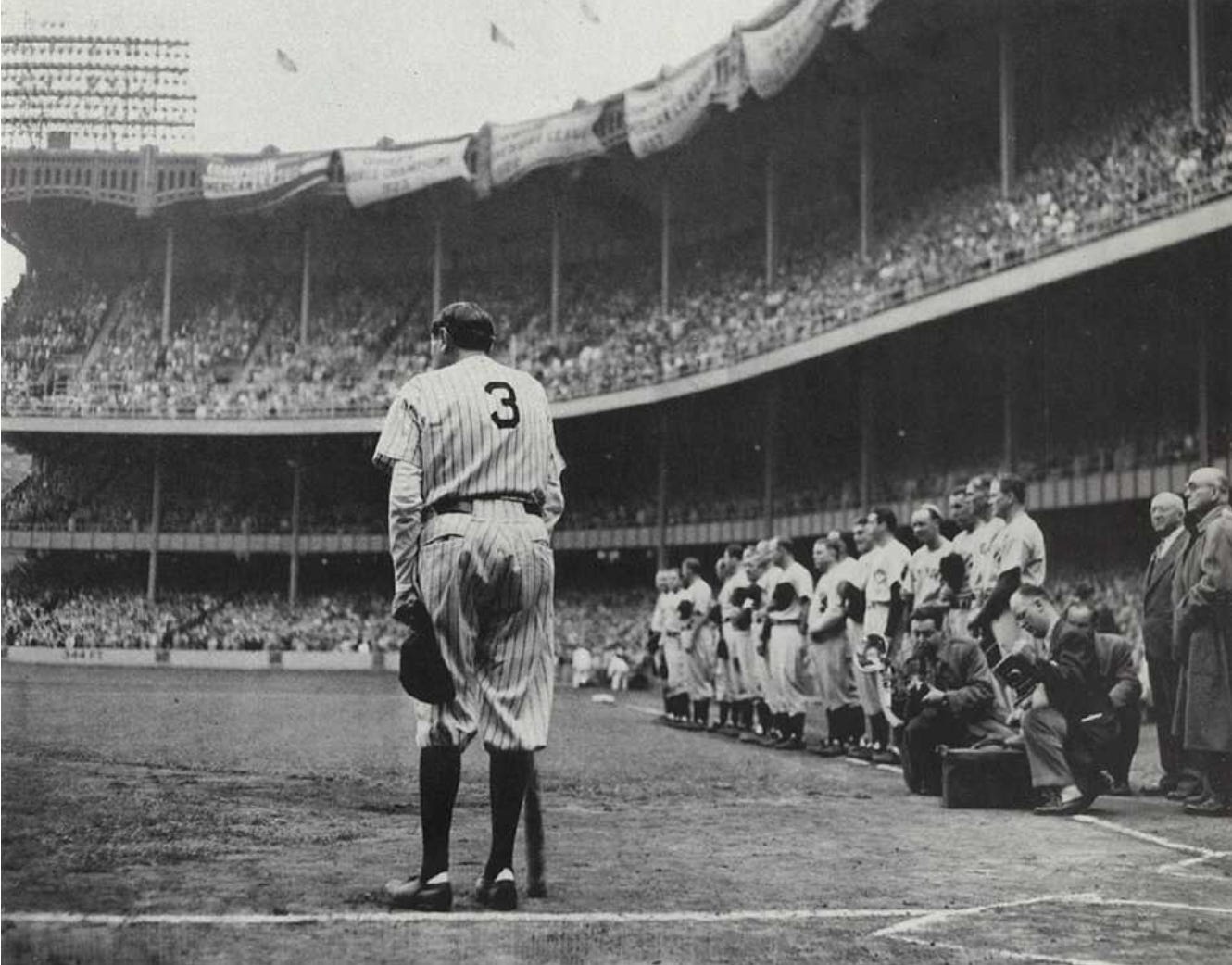 Contrary to popular belief, it was not "Babe Ruth Day." Ruth was part of a celebration reuniting the 1923 Yankees and the Silver Celebration of the Stadium's opening. It just so happened, the honored players occupied the third base dugout for the pregame event. The Yankees also retired Ruth's No. 3 that day. Two months and two days later, Ruth would succumb to throat cancer at the age of 53.
As for the iconic picture, it was taken by New York Herald Tribute photographer Nat Fein. "New York's Picture Newspaper," the Daily News and the "Paper of Record," the New York Times, had pictures of the ceremony but none as dramatic as Fein's Herald Tribune's photo. The picture earned Fein a Pulitzer Prize in 1949.
ESPN at crossroads
It seems no one has escaped the wrath of COVID, including the World Wide Sports Leader, ESPN. Several stories are indicating layoffs are on the way. Front Office Sports notes sources as indicating 300 to 700 people could lose their jobs at the Bristol, CT-based cable network, in addition to 400 who have already been given the pink slip. Top talent could also be "asked" to take pay cuts.
What about tax breaks?
It is certainly a far cry from the day in 2011, when then-Connecticut Gov. Dannel P. Malloy announced that ESPN would receive millions of dollars in tax breaks and loans in return for expanding its Bristol facility and creating jobs. By 2014 the picture was even rosier. One will never know if ESPN met its jobs' creation mark or if taxpayers ended up on the hook for the deals. Accountant are known for their creativity. But what is for certain is like other media, the sports media landscape is changing in a big way. Just see the next story.
LA Chargers launch new app
The NFL's Los Angeles Chargers are launching a new app. Fans will be able to stream games, listen to podcasts and engage in numerous other interactive experiences with their favorite team.
The Chargers are not the first to take advantage of this technology. You can listen to New York Islanders games on their app, rather than radio. The Oakland Athletics were prepared to broadcast their games on the TuneIn app rather than radio, until they cut a deal at the last minute with an Oakland-area station. But the reality is, more clubs will be taking this route in the future, landing another blow to the radio dial.
COVID-19 knows no bounds
Covid-19 is not going away. At least anytime soon. As I put this latest newsletter together, another New England Patriots (hosting Denver) game has been moved from Sunday to 5 p.m. Monday because of the virus. The Tennessee Titans, who did not play last week, have had their Sunday game against Buffalo moved to Tuesday. All this is pending no more positive tests.
Then there is this week's Shriners Hospitals for Children Open in Las Vegas, where recent U.S. Open winner Bryson DeChambeau shot an opening round 62 on Thursday to take a one-shot lead. Tony Finau, with a popular following on tour, had to bow out, issuing the following Tweet: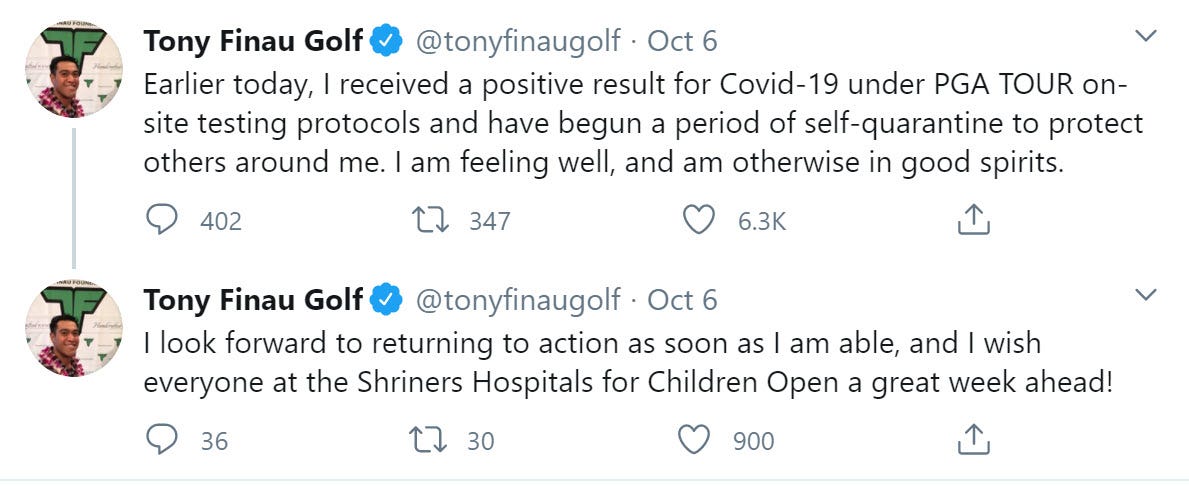 We wish him a speedy recovery, as well as all those who have been infected by the virus.
And on that note, be safe, stay healthy, thank you for your support and enjoy your weekend.
SPORTSCASTER DAN